News story
A year of transition for universities
The letter from Secretary of State Vince Cable and Universities Minister David Willetts sets out what HEFCE's priorities should be when allocating…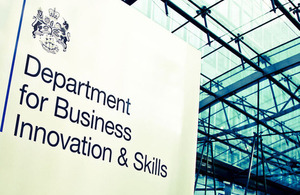 The letter from Secretary of State Vince Cable and Universities Minister David Willetts sets out what HEFCE's priorities should be when allocating higher education budgets to the sector for 2011-12. It also gives indicative figures for 2012-13 when a new system of student finance comes into effect, with broad projections for the rest of the spending review period to 2014-15.
Over the spending review period, revenue funding for higher education, in terms of grants from HEFCE for teaching and research plus income from tuition charges backed by Government loans to students, will rise from around £9 billion in 2011-12 to around £10 billion in 2014-15. This is a rise of nearly 10% in cash terms.
At the same time, the Government is calling for greater efficiencies in the higher education sector in 2011-12, reflecting the financial constraint required of all publicly-funded services. It has asked HEFCE to build on its work to date with HE institutions to increase cost-effectiveness and improve value for money, maximising savings and deploying the highest possible proportion of available funds to frontline delivery.
Secretary of State for Business Innovation and Skills Vince Cable said:
"Since taking office, our overriding priority has been to reduce the fiscal deficit. We recognise the vital role that higher education plays, which is why revenue funding for teaching and research in higher education will rise by nearly 10 per cent in cash terms by 2014-15. But Higher Education, like other areas of public spending, has had to take its share of savings, and this will continue in 2011-12.
"Universities will continue to receive significant public funding during this spending review period, with the new feature that more funding will be provided directly to students, including part-time students, as up-front tuition loans, which higher earning graduates will over time repay. It is essential that universities are rigorous in holding down costs and move quickly to innovate in preparation for the different environment in which they will operate in future years, striving to meet the aspirations of students for high quality teaching."
Minister for Universities and Science David Willetts said:
"2011-12 will be a year of transition, where institutions will be preparing for change. We are putting much more of the teaching funding in the hands of students, instead of a centrally allocated block grant. These changes will also support a more diverse sector, where the choices of informed students provide a constant drive towards high quality teaching and efficient use of resources.
"Students and the public have a right to expect that the HE sector will be rigorous in controlling its costs and improving value for money. That will put universities in a stronger position to demonstrate to students that they are offering good value for money when the new finance regime comes in from autumn 2012."
Notes to Editors
The HEFCE grant letter can be accessed on the BIS Website:
http://www.bis.gov.uk/assets/biscore/higher-education/docs/h/10-1359-hefce-grant-letter-20-dec-2010.pdf
The grant letter refers to ways in which higher education institutions could look to make future efficiency savings for example an increase in shared services (paragraph 20), pay and pension restraint (paragraph 22) and a more flexible provision (paragraph 8).

The 2009 Pre-Budget Report included an unallocated £600 million cut in higher education and science and research by 2012/13.
http://webarchive.nationalarchives.gov.uk/20100407010852/http://www.hm-treasury.gov.uk/d/pbr09_chapter6.pdf
BIS' online newsroom contains the latest press notices, speeches, as well as video and images for download. It also features an up to date list of BIS press office contacts. See http://www.bis.gov.uk/newsroom for more information.

For more information please contact the BIS Press Office.
Notes to Editors
Contact Information
Name BIS Press Office Job Title
Division COI Phone
Fax
Mobile
Email NDS.BIS@coi.gsi.gov.uk
Name Lucy Bell Job Title
Division Department for Business, Innovation and Skills Phone 020 7215 5361 Fax
Mobile
Email Lucy.Bell@bis.gsi.gov.uk
Published 20 December 2010