World news story
A welcome note from the British High Commissioner
The British High Commissioner, Dianna Melrose talks about her arrival in Tanzania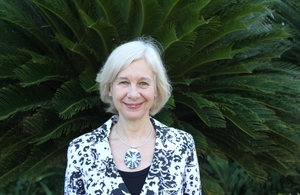 Karibu! Welcome to our new website. I hope you find it informative and useful. We would welcome your feedback.
I am very fortunate to be High Commissioner to the United Republic of Tanzania, a country with which the UK has such a strong partnership. We have close government to government, trade and investment, development cooperation and people to people links.
I arrived in February 2013 and was immediately struck by the warmth of the welcome I received. British people I've met who have lived in Tanzania have kept a special sense of connection with the people and the country and they keep coming back.
I am greatly looking forward to learning about Tanzania and travelling as widely as possible. Tanzania is a country of great potential. I look forward to working to further strengthen our political and economic relations and achieve our shared prosperity and security objectives, including in the wider region.
Please visit our Foreign and Commonwealth website too. Contact us if you need more help.
Published 24 March 2013