News story
A taste of success
Brewing up successful food and drink businesses in the Highlands.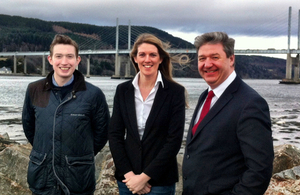 The world leading food and drink sector in the Highlands has benefited from and is contributing to the country's economic growth, the Scottish Secretary Alistair Carmichael has said after visiting two of their success stories.
Across the UK the number of breweries has almost doubled from 739 in 2010 to 1,403 in 2013 with supermarkets stocking an ever increasing variety of Scottish brands. From Unst - the most northerly island in the UK - down to the Borders you don't have to go far in Scotland to find a unique local brewery.
In 2013, UK breweries exported 1.1 billion pints to 113 countries, generating £630 million for the economy and an increase of 16% since 2010 supporting the UK Government's long-term economic plan.
One success story is Windswept Brewing. Established in October 2012 by two former RAF pilots, the Lossiemouth based company has received national industry recognition, grown their sales across the UK and started exporting to countries such as Belgium and Germany. The Scottish Secretary's visit today follows on from a meeting at last year's Royal Highland Show.
Mr Carmichael said:
I was extremely impressed by Windswept Brewing when I met them at last year's Royal Highland Show. Having visited the brewery itself today, it's clear they are one of the Highland's success stories in an industry which is going from strength to strength.

The UK Government wants to see Scottish companies like Windswept build on their success. Our cuts in duty have helped channel an extra £44 million in capital investment into the brewing and pub sector benefitting breweries such as Windswept together with over 5,000 pubs in Scotland and the 35,000 people employed directly in them.
Nigel Tiddy, Managing Director of Windswept Brewing Co, said:
We were delighted to welcome the Secretary of State to Windswept Brewing Co and Lossiemouth. This was a valuable opportunity for us to share our concerns and successes with the minister. Having set out to bring employment opportunities to Lossiemouth, we are very proud of how the brewery has grown in just over two years of trading, now employing 6 people. With ambitious plans for expansion through 2015, we hope to see those numbers double in the next 12 months.
Earlier in the day the Scottish Secretary visited Inverness based Coast and Glen. The business was founded by Magnus Houston, a fisherman, who previously worked single handed on his small fishing boat. He fished from Cromarty on the East Coast of the Highlands, catching lobster and crabs in his creels. From initially selling his catch to local restaurants and retailers he developed Fishbox, an online subscription service for a mixed Scottish seafood box available home delivered throughout the UK.
Mr Carmichael added:
Coast and Glen is a great example of a company which has spotted a gap in the market and is making the most of the opportunities to sell some of Scotland's most outstanding produce. For other aspiring entrepreneurs Magnus's story is an inspiration to follow.

In the last 5 years this government has cut the deficit by a third, helped businesses grow and created incentives for new jobs. As a result the UK is now the fastest growing economy in the western world and we have Scottish employment at record levels. Scotland – and companies like Coast and Glen – have helped make this happen and they are benefiting from being part of the strong and diverse UK economy.
Director of Coast and Glen Magnus Houston said:
It was an absolute pleasure meeting Alistair Carmichael today and really appreciate him taking the time to come and meet small businesses in the Highlands.

We are growing rapidly as a business and it was good to talk through some of the challenges we are facing in developing our innovative, online 'Fishbox', which is like a veg box, containing seasonal, sustainably caught, Scottish seafood delivered through the UK.

We believe that the the future of businesses like ourselves will not just be cutting the unemployment deficit but training employees, developing their skill set for our business and their future to come.
Published 18 February 2015