World news story
A success story: Norman Wray on his experience studying in the UK
As part of our Education is GREAT campaign, we are sharing testimonies of students who studied in the UK. This week, Norman Wray tells us about his experience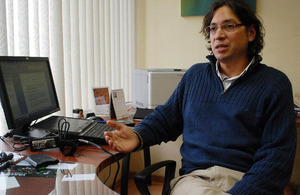 The experience of studying in the UK is a very interesting one. I had the opportunity to broaden my knowledge of public administration, first by taking specialised courses and later by doing a diploma in Environmental Democracy and Governance at the Centre for International Development and Training at the University of Wolverhampton, which I was able to do through a Chevening Fellow scholarship. In addition to improving skills in another language, one of the richest aspects of my time there was sharing experiences with people from other countries, learning about their problems and their successes, raising global issues and sharing challenges. Also, the education I had, and the exchange of experiences, provided me with skills for working in public service, including management tools that enabled me to strengthen dialogue and participation by civil society.
In addition, the numerous opportunities on offer for intercultural exchange enable you to strengthen your democratic values, learn to respect the opinions of others, and, in particular, learn that dialogue is always the best tool to achieve peace.
Norman Wray
Get the latest news in our Twitter or Facebook accounts.
Published 7 October 2013