A step towards justice for road crash victims
To mark the start of road safety week, she explains why changes to the law on dangerous driving are being welcomed.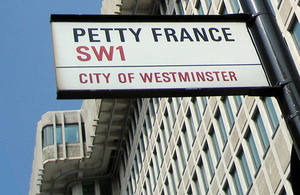 Julie Townsend is deputy chief executive of Brake, a charity that campaigns for safer roads and justice for people bereaved and seriously injured in road crashes.
'Through Brake's work supporting families bereaved and seriously injured in road crashes, we hear first-hand about the terrible devastation and trauma these victims suffer. We also hear, very often, that their suffering has been compounded by a feeling of outrage over lenient sentences given to the drivers who have inflicted such pain on them.
Earlier this month an important announcement was made by Justice Secretary Kenneth Clarke, which should help to address the long-running injustice of drivers who cause serious injury being let off with little more than a slap on the wrist. For the first time, we will have a criminal charge that specifically recognises the causing of serious injury by dangerous driving, with a maximum penalty of five years in prison.
At present, drivers who cause devastating serious injuries through irresponsible and reckless behaviour can only be charged with 'dangerous driving', with a maximum penalty of two years, or 'careless driving', with a maximum penalty of a fine and disqualification only.
This means that these drivers commonly get away with a few months in jail or, worse, a paltry fine that serves only as an insult to the victims and in no way befits the consequences of their crime. In some cases, these are drivers who have inflicted permanent debilitating injuries, meaning victims' lives are turned upside down, every aspect of their day-to-day life affected. Often they are forced to move home, give up work, and rely on round-the-clock care and specialist mobility equipment to get by.
This new charge means drivers who seriously injure will face a significantly longer maximum sentence, and it means that the terrible crime of causing serious injury on roads will be recognised in the name of a charge - important in itself for the families affected. This is a huge victory following a long-running campaign, which Brake has run in partnership with families whose lives will never be the same as a result of devastating serious injuries: families like Cerys Edwards', who have bravely and tirelessly spoken out about the need for change.
Brake welcomes this positive step in the right direction, and hope to continue to engage the Ministry of Justice in working towards further improvements to charges and penalties for driving offences. 'Our aim must be to ensure that justice is done for all families who suffer so appallingly due death or serious injury on roads.'
Brake is a UK-wide charity that runs a helpline (0845 6038570) and provides support literature for people bereaved and seriously injured in road crashes, part-funded by the Ministry of Justice. Brake also campaigns for safer roads and justice for victims. More information on Brake's work.
Published 21 November 2011