A simpler, fairer state pension for the 21st century
Plans that will see the biggest shake up of the state pension system for generations were unveiled today.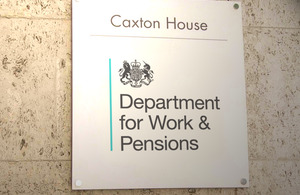 Plans that will see the biggest shake up of the state pension system for generations were unveiled today by the Pensions Minister, Steve Webb.
In the Green Paper 'A state pension for the 21st Century' options are set out on how to simplify the system for future pensioners. It includes a single-tier state pension currently estimated at around £140 a week, set above the current guarantee element of Pension Credit. This would replace the existing combination of entitlements that make up the present state pension.
This radical redesign, still based around the contributory principle, would over time lift millions out of means testing and also put an end to inequalities in the current system that penalises women, low earners and the self-employed.
Secretary of State for Work and Pensions, Iain Duncan Smith said:
"Over the years small changes to the state pension system have turned what started as a relatively simple contributory system into a complex mess, leaving people utterly confused as to what the state pension means for them.
"We have to send out a clear message across both the welfare and pension system: you will be better off in work than on benefits and you will be better off in retirement if you save."
Minister for Pensions, Steve Webb said:
"The current state pension system is dogged by complexity and confusion, it makes it very difficult to save for retirement and leaves millions of people relying on complicated means tested support.
"I'm proud to bring forward proposals that will end the unfairness inherent in the system and secure a fair, decent and simple state pension fit for the 21st century. These reforms will transform pension saving in this country for millions of people."
Currently just under half of pensioners are eligible for means-tested Pension Credit to top up their state pension but around 1.6 million pensioners don't claim, leaving them with a basic income of below the £132.60 guaranteed credit. The extent of reliance on means testing means that people cannot be sure they will benefit from the savings they put aside.
State pension reform would underpin existing plans to automatically enrol people into workplace pensions from 2012, bringing between 5-8 million into saving for the first time.
A state pension for future pensioners would not involve increases in public spending dedicated to state pensions. Any contributions accrued by people under the current pension system would be honoured.
Notes to Editors:
It contains: * two options for reform of the state pension that better support saving for retirement * the factors to consider in designing support for future pensioners on low incomes * the most appropriate mechanism for determining future changes to State Pension age. * The current state pension system is made up of:
Basic State Pension;
Additional State Pension (also known as: State Second Pension (S2P) from 2002; State Earnings-Related Pension Scheme (SERPS) from 1978);
Pension Credit.
The Old Age pension was set up in 1908 when the average life expectancy was 41. In 1981 an average 65-year-old man could expect to live for another 14 years, today it's over 21 years, by 2050 it will be over 25 years.
The Pensions Bill currently going through Parliament is taking forward, among other things, changes recommended by an independent review of automatic enrolment, to ensure that there is a balance between costs and benefits for individuals and a more proportionate impact on employers.
Published 4 April 2011