News story
A safe World Cup
As the tournament begins police are ready to target bad behaviour – at home and abroad – says Home Office minister.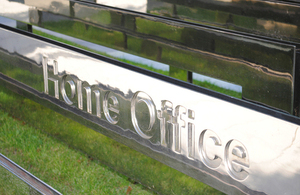 Crime prevention minister James Brokenshire encouraged fans to act sensibly and drink responsibly as the World Cup tournament kicks off today.
'I want everyone to enjoy the World Cup in the right spirit and not have the experience spoiled by a minority overdoing it,' he said.
He reassured fans that police are ready to target bad behaviour: 'Our police are among the best in the world at dealing with big public events. They have been preparing for many months and are ready for the tournament.'
Find out about our plans to keep fans safe here.
Portable scanners screen travellers
A nationwide operation is underway at all airports.  Police teams, armed with portable passport scanners linked to the police national computer, are monitoring fans travelling to South Africa. 
This will ensure that any fan subject to a banning order won't make it to the World Cup.
'The vast majority of supporters are going to South Africa to have a great time and enjoy themselves,' said Bryan Drew, director of the football policing unit.
'We have made as many preparations as possible to prevent organised violence and we hope that even if England win all their matches and progress, then the celebratory behaviour is kept within reasonable limits.'
Watch a video about the football policing unit's work here
More than 3,000 banned from travel
Police figures show that the vast majority of people with football banning orders have already surrendered their passports to authorities.
More than 3,000 people - banned from matches due to hooliganism - handed over their documents at police stations by the 2 June deadline.
They will not be able to fly overseas without special permission until the end of the tournament on 11 July.
Police say 'stay alert'
Most forces will be increasing resources before, during and after England games.
Each has put together its own plan to reflect the needs of communities and resource certain key games and events throughout the tournament.
The Association of Chief Police Officers is also asking fans gathering in busy areas to watch matches to be on the lookout and stay alert. Anyone spotting suspicious activity or behaviour should contact the Anti-Terrorist Hotline on 0800 789 321.

Published 11 June 2010