World news story
A review of Scotland's year
2014 was a year of enormous significance, with a historic referendum in which the people of Scotland chose to remain as part of the UK. What has happened in the 12 months since?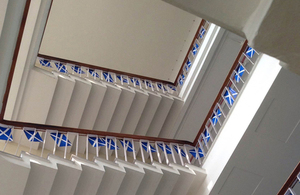 At the end of the year, newspapers will be awash with articles looking back on 2015. But when St Andrew's Day falls so neatly one month in advance, there is a case for bringing forward a review of the Scottish year – putting Scotland ahead of the pack.
2014 was a year of enormous significance, with a historic referendum in which the people of Scotland chose to remain as part of the UK. What has happened in the 12 months since?
The most important development has to be constitutional. Scotland is set to have one of the most powerful devolved parliaments in the world, responsible for more than 60% of Scottish spending, as the recommendations of the Smith Commission are implemented in full and the Scotland Bill passes through the UK Parliament.
In practical terms, this means that Members of the Scottish Parliament will now face important decisions about how to use these significant new powers, and Scotland's political parties will be working together to make them a success for everyone in Scotland.
Scotland's economy continued to grow in 2015. UK Trade & Investment, working hand-in-hand with Scottish Development International, has contributed to this. Thousands of Scottish firms have been helped to export, and over 5,000 new jobs have been created by foreign direct investment in the last year alone.
What attracts foreign firms to Scotland? Our stable economy and excellent business environment mean that the UK as a whole has held onto its number one spot as the most attractive place in Europe for inward investment. Together, the UK's four nations have weathered market turbulence caused by factors such as the halving of the global oil price.
Scotland's world-class science and education is another pull for foreign firms. Take the example of Chinese animal health firm Sinovet, which in February invested in a facility at the Moredun Research Institute near Edinburgh for animal vaccines.
And in Scotland's Year of food and drink, we were proud to showcase Scotland at the gold medal-winning UK Pavilion at the World Expo in Milan. Michelin-star winning chef Tom Kitchin prepared our July menu, with Scottish cheese and haggis, and to top it all - cranachan, which is made from whisky, honey, whipped cream, oatmeal and fresh raspberries.
While there was disappointment for Scotland – and England and Wales for that matter – in the Rugby World Cup, lovers of golf had reason to celebrate.
The Open Championship returned to St Andrews in 2015. The competition was won by America's Zach Johnson, but the event was expected to benefit Scotland's economy to the tune of tens of millions of pounds. In 2010, the figures were £40 million in estimated economic impact and over £50 million in direct marketing benefit. Following on from the Commonwealth Games last year, it was further proof that Scottish firms can deliver high quality sporting events.
What should we be looking forward to next year? In Scotland, 2016 will be the year of innovation, architecture and design.
We're not only talking Charles Rennie Mackintosh and Harris tweed. There will be a festival of architecture; the National Museum of Scotland turns 150 years old and will reopen ten new galleries; the creation of the new V&A Dundee will gain pace; and the new Queensferry Crossing - set to be the longest three-tower, cable-stayed bridge in the world - will officially open.
If that's not enough reason to visit Scotland, then we have the winter festivals of Hogmanay and Burns Night to look forward to. Whether for business, study or just to enjoy some of the world's most spectacular scenery, we hope to see you in Scotland soon.
Follow us on Twitter, Facebook, Flickr, Storify, Eventbrite, Blogs, Foursquare, Youtube, Instagram, Vine, Snapchat @UKinIndia, Periscope @UKinIndia
Published 1 December 2015