World news story
A Premier League week
This was published under the 2010 to 2015 Conservative and Liberal Democrat coalition government
High Commissioner Judith Macgregor speaks about the Premier Skills in South Africa and the importance of sport.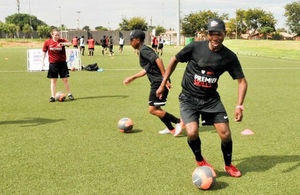 In the last week of March, the British Council Premier Skills programme and the Barclays Premier League Live event landed in South Africa. High Commissioner Judith Macgregor speaks in this video blog about the "Premier League week" and the wider sporting links between the United Kingdom and South Africa looking ahead to the Glasgow Commonwealth Games opening in July this year and the England Rugby World Cup in 2015.
Premier Skills is a global programme in association with the English Premier League , that uses football to help develop a brighter future for young people around the world. Through Premier Skills, young people, including the most vulnerable in society, are given opportunities to become better integrated into their local communities, to develop their skills for employability and raise their self-esteem. Almost half a million youngsters from around the world have benefited from the scheme so far.
Following-on from Premier Skills, the Barclays Premier League Live event took place in Johannesburg in the last weekend of March. This was an exciting and busy couple of days, where South African fans of the English Premier League were able to participate in an interactive fan zone, meet local and international football legends including Mark Fish, Lucas Radebe, Phil Masinga, Robbie Fowler and Marcel Desailly and also touch the Premier League trophy itself.
This was the first ever Barclays Premier League Live event, where fans of English Premier League football were able to watch live matches in the park as well as interact with the game through innovative technology. As Richard Scudamore, the Chief Executive of the Barclays Premier League said, it was fitting it happened in South Africa were the interest and passion for football and English Premier League clubs is so strong. High Commissioner Judith Macgreror on the Premier League Week