News story
A new painting marks Army's relationship with Scotland over last 100 years
The Army's historic relationship with Scotland has been marked by a painting unveiled at the Scottish Parliament today.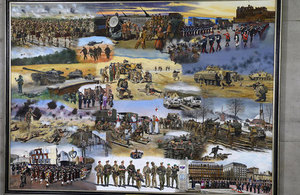 The Army has given a painting to the Scottish Parliament to highlight their longstanding relationship with Scottish society.
The unique artwork also marks Scottish contribution and sacrifice in the First World War and is presented on the centenary of the Battle of Loos. Every Scottish regiment was involved in the battle in northern France, and the losses were felt across almost every town and village.
The painting depicts scenes covering the hundred years from the outbreak of the First World War up to this year's Royal Edinburgh Military Tattoo. It includes images from the Second World War and more recent tours in Afghanistan.
Lt Gen James Bashall CBE, Commander Personnel and Support Command, unveiled the painting with the Scottish Parliament's Presiding Officer, the Rt Hon Tricia Marwick MSP.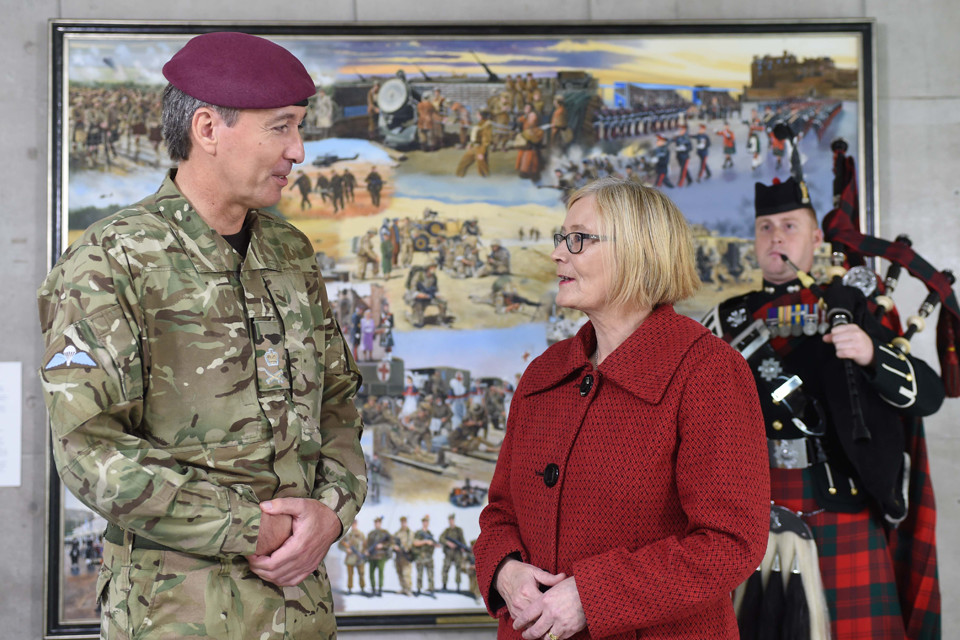 Lt Gen Bashall said:
This painting recognises the place of the Army in society and the worth of past, current and future generations of serving soldiers, veterans and their families.

Presented in conjunction with the Centenary of the First World War Battle of Loos in which some 35,000 Scottish soldiers took part, the painting both commemorates past service and gives expression to the strong institutional relationship which has been established between the Army in Scotland and its Parliament; a relationship which continues to deliver real benefit to veterans and their families.
The 9 by 6.6ft painting by established military artist David Rowlands, titled 'Service', was funded entirely by donations from the Army family in Scotland.
Scottish Parliament's Presiding Officer, the Rt Hon Tricia Marwick MSP, said:
I am honoured to unveil this gift to the people of Scotland. This thought provoking and evocative work illustrates perfectly the many and varied roles the Army has played in Scottish life throughout the years. It also acts as a poignant reminder of the sacrifice that many of our soldiers and their families have made.

The painting will go on show across Scotland in the coming months and I hope as many people as possible will have the chance to appreciate it before it goes on public display at Holyrood next year. Members of the public can see the painting in the Scottish Parliament until the end of January 2016, when it will travel on display throughout Scotland.
Published 7 October 2015