World news story
A multi-agency approach to protecting vulnerable children in Jamaica
This was published under the 2010 to 2015 Conservative and Liberal Democrat coalition government
The high commission has supported the Jamaican government in protecting vulnerable children in the Justice system.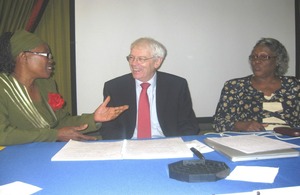 The British high commission hosted a workshop under the theme "Moving Ahead" to conclude its funding of the Child Protection Project in Jamaica. The workshop was used as a medium through which stakeholders could report on the progress of the project since its inception in 2008. The project has introduced new structures, systems and procedures for the reporting and investigating of child sexual abuse cases.
The project is now sustainable with child protection agencies using a multi-agency approach to child protection. The project has therefore moved from project to practice.
Four major elements of the project are now established practices:
The multi-agency approach using standard procedures for the reporting and investigating of cases of child sexual abuse, with the Centre for the Investigation of Sexual Offences and Child Abuse (CISOCA), the Child Development Agency (CDA), and Victim Support Unit having specific responsibilities throughout the process.

The diversion of suitable cases of child sexual abuse from the criminal justice system to counselling through the Office of the Director of Public Prosecutions and the Women's Centre Foundation.

School Guidance Counsellors are working to new standard procedures for receiving and reporting cases to (Centre for the Investigation of Sexual Offences and Child Abuse) CISOCA.
The recent passing of The Evidence (Special Measures) Act, 2012 by the Jamaican Parliament has now cleared the way for the use of video recorded evidence of child victims and vulnerable witnesses in court proceedings. A video recording suite is already established at the Centre for the Investigation of Sexual Offences and Child Abuse (CISOCA 's) Kingston office and officers trained in use of the technology.
The project has received the endorsement of the Minister of Youth and Culture, the Minister of Justice, and the Minister of Education.The diversion pilot project will be included as a component of the wider National Child Diversion Policy now being developed by the Ministry of Justice, and the Education Ministry has committed to having all School Guidance Counsellors trained in the use of the new guidance.
The high commission has funded the project at a cost of £205,000.
A full scale evaluation of the project is now underway and recommendations from the evaluation will guide the future work of the management committee which has responsibility for continuing the roll-out of the multi-agency model to all parishes across the island as well as ensuring that the new practices and processes are being implemented. A manual of best working practices developed by the project is being produced and will be distributed to all stakeholder agencies and made available online.