World news story
A Mini parade around Budapest
Get ready, this Friday Budapest will be the scene of a Mini invasion!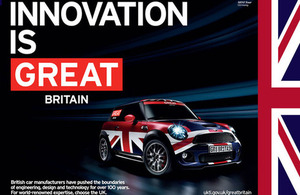 The Mini is an international icon of GREAT British design, innovation and creative flair. This Friday (26 July, 2013) we are celebrating British motorsports and the Hungarian Grand Prix™ at Hungaroring by sending a fleet of Minis to pose for photo opportunities with British businesses at some of Budapest's most historic landmarks and main roads.
This Mini invasion is taking place as part of the GREAT campaign, a series of high profile activities that aims to promote business opportunities in the thriving economies of Emerging Europe to UK investors and encourage stronger trading links between the UK and Hungary.
This year the British Embassy in Budapest is organising a series of events around the theme of "Innovation is GREAT Britain" of which the Mini tour will be one. This Thursday, there will also be an exclusive Formula One themed reception held at the British Ambassador's Residence in Budapest. In addition, from Thursday to Sunday, our Embassy trade experts will be at the Hungaroring race circuit on board our own double-decker London bus; where they will be meeting local companies to talk about business opportunities and British – Hungarian business collaboration. Jonathan Knott, British Ambassador to Hungary will also be available at the bus for media interviews on motorsport, innovation and British business.
Why do this at the time of the Grand Prix™?
Because the Formula 1 is quintessentially a British-dominated sport where the combination of speed, technology and glamour showcase what British companies can do.
With every decibel, with every turn of the wheel and with every chequered flag, Britain is showing what it can give to the world,
Jonathan Knott, British Ambassador to Hungary said about the campaign.
Notes to editors
If you would like to photograph the Mini parade in Budapest, you can see the cars on 26 July at 10:50am at Chain Bridge (MTA Academy car park), at 11:30am at the Parliament (at the Batthyány square Danube embankment) and at 15:20pm at Heroes Square. In-between, the cars will be touring in the city, across Andrássy út, Nagykörút, Rákóczi út and Kiskörút.
Jonathan Knott, British Ambassador to Hungary shall be available for interviews about the Mini parade and the F1/ Hungaroring campaign at Heroes' Square on Friday 26 July at 15:00pm. For interviews, please contact Petra Hajdu Senior Press Officer at petra.hajdu@fco.gov.uk or +36 70 335 5556
Formula 1 facts and figures
The UK is home to twice as many teams as the rest of the world, and today that home is "Motorsport Valley", a 100-mile crescent stretching from Surrey to East Anglia via Oxfordshire.
8 of the 12 Formula One™ teams are based in Motorsport Valley, and 16 of the cars in this year's 22-strong Formula One™ grid are made there.
Motorsport Valley includes at least 3,500 small and medium sized firms, mainly family-owned, with 40,0000 employees and global sales of £7 billion. It is part of the future of British industry.
Published 23 July 2013