Press release
A million more people in jobs
Latest Office for National Statistics figures show a million more people are in work compared to early 2010.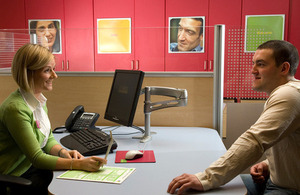 A million more people are in work compared to early 2010 according to figures released today (16 October 2013) by the Office for National Statistics (ONS).
The total number of people in employment is now at a new record high, with the rise being driven by growth in full-time and permanent jobs.
Today's figures also show that there are more than 540,000 vacancies available in the UK economy at any one time.
This is accompanied by a welcome fall in unemployment of more than 18,000 over the last 3 months – a figure that includes a significant fall in long-term unemployment of more than 15,000.
Minister for Employment Esther McVey said:
Today's figures show a rise in employment of more than a million under this government – and they show that there are now more people in work than ever before.

That's a really positive sign of growth in the UK economy, and a credit to British businesses for creating those jobs.

We are not complacent – there's still work to do – but with more than 500,000 vacancies currently available, and with all the signs being that the economy is turning a corner, we can see that there are opportunities out there for hardworking people who aspire to get on in life.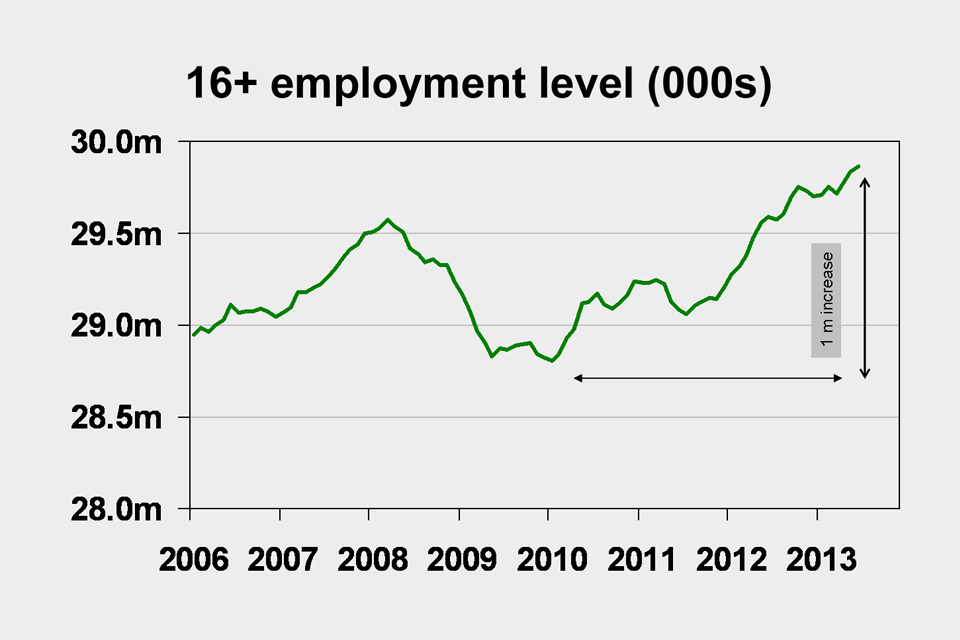 Today's figures also show that the total number of people out of work has fallen by more than 450,000 since early 2010, with the number of people claiming out-of-work benefits down by a similar amount.
The number of people claiming Jobseeker's Allowance (JSA) has fallen by 41,700 over the last month, and is down by 214,500 since this time last year. The number signing on is now at the lowest level since January 2009.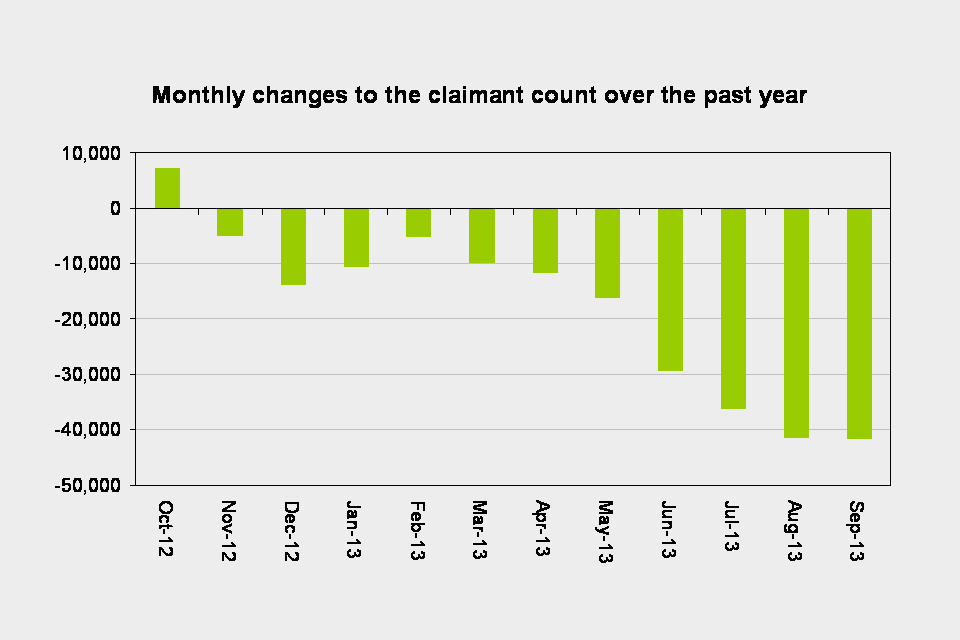 Meanwhile, the number of young people claiming JSA fell 13,500 over the past month, and by 84,800 over the past year. It is now down to the lowest level since November 2008.
From today, anyone making a new claim for JSA will have to sign a Claimant Commitment. The commitment will see jobseekers having to account more clearly for their efforts to find work in order to receive their benefits. It will roll out in around 100 jobcentres a month until it's fully implemented across the county in the spring.
Background to labour market statistics: October 2013
This month's Labour Force Survey covers June to August 2013. The claimant count is for September 2013 and the ONS vacancy survey covers July to September 2013.
The number of people in work rose this quarter
29.87 million people were in work in June to August 2013
the employment level rose 155,000 on the previous quarter and 279,000 on the year
the employment rate is 71.7%, up 0.3 points on the quarter and up 0.4 points on the year
International Labour Organisation (ILO) unemployment fell this quarter
2.49 million people were ILO unemployed in the June to August 2013 quarter, down 18,000 on the previous quarter and 40,000 on the year
the ILO unemployment rate is 7.7%, down 0.1 points on the quarter and down 0.2 points on the year
The level of economic inactivity is down on the quarter and on the year
the economic inactivity level was 8.95 million in June to August 2013 quarter, down 83,000 on the previous quarter and 88,000 on the year
the economic inactivity rate is 22.2%, down 0.2 points on the quarter and down 0.3 points on the year
excluding students, inactivity as a share of the 16 to 64 population is 16.4%, down 0.3 points on the quarter and down 0.6 points on the year
The number of people on JSA fell this month, and the number claiming one of the other main out-of-work benefits is also improving
claimant unemployment was 1.35 million in September 2013, down 41,700 on the month and down 214,500 on the year
the claimant count rate is 4.0%, down 0.1 points on the month and down 0.6 points on the year.
the benefits data continues to be affected by welfare reform, including re-assessment of existing claims for incapacity benefits and the equalisation of state pension age
in the year to February 2013, the number claiming incapacity benefits fell 82,000 to 2.48 million. The most recent provisional figure for August 2013 suggests the caseload has since fallen further to 2.44 million
in the year to February 2013, the number of lone parents on income support fell 79,000 to 505,000. The provisional figure for August 2013 is 500,000
The number of redundancies and unfilled vacancies both rose on the quarter
there were 132,000 redundancies in June to August 2013, up 14,000 on the previous quarter and 1,000 on the year
ONS' vacancy survey estimates an average of 541,000 unfilled vacancies in the 3 months to September 2013, up 6,000 on the previous quarter and 60,000 on the year
Total weekly pay in August 2013 was up by 0.7% over the year
growth in regular weekly pay, excluding bonuses, was up by 0.8% on the year
Press Office
Caxton House
Tothill Street
London
SW1H 9NA
London Press Office (national media and London area enquiries only – not questions about personal claims) 020 3267 5144
Out-of-hours (journalists only) 076 59 108 883
England and Wales (local media enquiries) 029 20 586 then 097 or 098 or 099
Scotland (local media enquiries) 0131 310 1122
Media enquiries for this press release – 0203 267 5161
Follow us on Twitter – www.twitter.com/dwppressoffice
Published 16 October 2013