News story
A further £7.9 million Regional Growth Fund for businesses
The four firms are: Nifco UK in Stockton on Tees in the North East, which will use £1.65 million of RGF support towards an £11 million…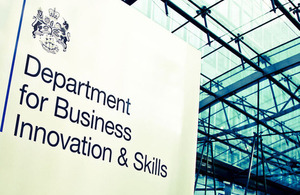 The four firms are:
Nifco UK in Stockton on Tees in the North East, which will use £1.65 million of RGF support towards an £11 million project to equip a new factory and help the company move into the market for electric vehicle batteries. This is expected to create 128 new jobs and safeguard 158 current jobs.

e2v Technologies Limited in Chelmsford, Essex, will use £6.25 million of RGF support to boost its work developing microwave processing systems for a range of industrial applications in resource and energy intensive sectors. This is part of £29.4 million overall investment that is expected to create 336 new jobs at e2v and in its supply chain.

Bentley Motors in Crewe in the North West will receive £1.69 million to upskill existing employees and enable them to take on significant additional staff to support increased production. The total project cost is more than £4.5 million.

Halifax Rack and Screw Cutting Co. Ltd, Halifax in Yorkshire is the first project from round two of the fund to receive its funding and forms part of the Leeds City Region local enterprise partnership package. It will receive £200,000 towards a £1.5 million project to support modernisation of their production facilities to manufacture precision products for the construction, engineering, offshore and energy sectors. It will create 12 new jobs and safeguard seven jobs.
Deputy Prime Minister Nick Clegg said:
"Creating long-term jobs and long-term growth is our number one priority for Britain.
"The Regional Growth Fund is already helping the economy grow in every region and across a range of industries. The 641 jobs announced today is more good news for people in Teesside, Essex, Crewe and Halifax.
"For too long the UK economy has been too focused on the City of London.
"The Regional Growth Fund is unlocking private sector investment, with at least £5 put in for every £1 of public money, letting businesses in Britain thrive."
---
---
Business Secretary Vince Cable said:
"It's excellent that four more companies are benefitting from the Regional Growth Fund. This support continues to provide a significant boost to the local economies, lever in significant investment and will create jobs where they are needed most. The projects will support advanced manufacturing techniques, enable R&D to develop new products and improve skills, all of which are vital to support growth and help rebalance the economy."
The projects, three from round one and one from round two, successfully completed a period of necessary checks by the companies and the government to ensure the deals offer the best value for taxpayers.
So far £1.4 billion has been conditionally allocated to 164 projects through two bidding rounds, creating and safeguarding more than 330,000 jobs and is supported by more than £6 billion of private investment. Many round one bids are now up and running, with 29 projects overall having now received their funding. More projects are expected to complete the legal checks and receive their funding in the coming months.
The Chancellor announced in November an additional £1 billion will be added to the Regional Growth Fund, bringing the fund's total value to £2.4 billion. Bidding for the next round of funding will be launched next month.
Notes to editors:
When a business receives a conditional offer of funding from the Regional Growth Fund, it must then agree the terms of this offer and complete due diligence - a series of strict checks taken by the business and government to ensure value for the taxpayer.
The Regional Growth Fund is a competitive fund, with businesses and public-private partnerships invited to submit a bid for a project which will create jobs, lever in private investment and is based in areas overly - dependent on the public sector.
The bids are assessed by an Independent Advisory Panel chaired by Lord Heseltine, which then makes recommendations to a panel of ministers, chaired by the Deputy Prime Minister Nick Clegg, which makes final decisions on which projects to support.
The next round will open in February, with the first successful bids likely to start receiving awards before the end of the year. Further details about the upcoming bidding round, including timings, funding allocations and application forms will be available in due course.
BIS's online newsroom contains the latest press notices, speeches, as well as video and images for download. It also features an up to date list of BIS press office contacts. See http://www.bis.gov.uk/newsroom for more information.
Notes to Editors
Contact Information
Name BIS Press Office Job Title
Division COI Phone
Fax
Mobile
Email NDS.BIS@coi.gsi.gov.uk
Name Joanna Fletcher Job Title
Division Department for Business, Innovation and Skills Phone 020 7215 5951 Fax
Mobile
Published 23 January 2012