A fairer deal for UK hauliers
Plans for a lorry road user charging scheme to create a fairer deal for UK hauliers announced.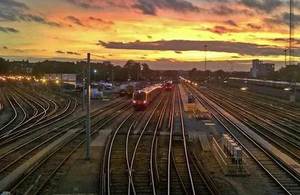 Plans for a lorry road user charging scheme to create a fairer deal for UK hauliers were announced today (25 January 2012) by Roads Minister Mike Penning.
Most EU states charge lorries for using their roads which means that British vehicles have to pay to drive in Europe, while foreign lorries can drive for free in the UK.
Mike Penning said:
We want to ensure that UK hauliers get a fairer deal and help maintain the competitiveness of our logistics industry.

Each year there are around 1.5 million trips to the UK by foreign registered lorries - but none of them pays to use our roads, leaving UK businesses and taxpayers to foot the bill.

The proposals I have set out today will ensure that all hauliers who use our roads are contributing to their cost, regardless of where they are from.

I want UK hauliers to get involved and respond to this consultation to make sure that the final scheme works for them - helping level the playing field with foreign hauliers, boosting their market share and increasing employment and promoting growth in the UK.
The proposed scheme will levy a time-based charge of around £10 a day for lorries of 12 tonnes or over using any road in the UK. The precise level of charges will depend on exchange rate and inflation at the time of implementation - likely to be 2015, subject to the legislative programme.
By law, the scheme cannot discriminate between UK-registered vehicles and vehicles from elsewhere in the EU so this charge will apply to all lorries but, for the vast majority of UK hauliers, this will not mean an increase in costs because the government proposes to compensate them for the charge.
The most likely compensation measure will be a reduction in Vehicle Excise Duty for UK-registered vehicles.
For 94% of UK-registered HGVs over 12 tonnes, hauliers would not pay any more than now. Four per cent would pay no more than £50 a year more and a further 2% would pay slightly over £50, but the maximum extra cost would be £79. Even these small increases could be avoided by most vehicles if they were replated to carry a slightly reduced weight.
Under the plans, UK hauliers would pay an annual (or 6 month) charge for each HGV at the same time and in the same transaction as they pay its Vehicle Excise Duty. Foreign hauliers could pay daily, weekly, monthly or annual charges.
The consultation will run until 18 April 2012
Notes to editors
The lorry road user charge would apply to heavy goods vehicles (HGVs) of 12 tonnes and over. There are 7 proposed main charge bands applying to most HGVs. These charge bands align with existing Vehicle Excise Duty (VED) bands for these vehicles. Both the charge and Vehicle Excise Duty are intended to reflect the different levels of damage caused to the road by the vehicle. The charges for each band are set out in the table below:
VED band user charge rate: (foreign vehicles only) user charge rate (foreign and UK vehicles)
| | | | | |
| --- | --- | --- | --- | --- |
| Daily | Weekly | Monthly | Annual |   |
| A | £1.70 | £4.25 | £8.50 | £85 |
| B | £2.10 | £5.25 | £10.50 | £105 |
| C | £4.80 | £12 | £24 | £240 |
| D | £7 | £17.50 | £35 | £350 |
| E | £10 | £32 | £64 | £640 |
| F | £10 | £40.50 | £81 | £810 |
| G | £10 | £50 | £100 | £1,000 |
Information on some additional charge rates applying to a few other types of freight-carrying HGVs are included in the consultation document.
The charging levels must comply with the Eurovignette Directive (Directive 1999/62/EC as amended by 2006/38/EC and 2011/76/EU) which sets out a framework of rules for tolls and charges, including maximum daily rates for the latter.
Non-payment of the user charge would be a criminal offence, which could result in a fine imposed by the courts of up to £1,000. The user charge would be enforced by DVLA records, ANPR cameras and checks by the Vehicle and Operator Services Agency (VOSA) at the roadside. VOSA would also be able to issue fixed penalties on the spot to non-compliant drivers (and take financial deposits from drivers based outside the UK).
Most EU states charge lorries for using their roads e.g. a vehicle doing a 2 day return trip from the UK to Belgium, Luxembourg or the Netherlands pays 16 Euros in user charges.
Roads media enquiries
Media enquiries 020 7944 3021
Out of hours media enquiries 020 7944 4292
Switchboard 0300 330 3000
Published 25 January 2012