A fair deal for the voluntary and community sector: from Whitehall to town halls
Communities Secretary Eric Pickles has today published guidance to local authorities on how to protect voluntary and community groups from disproportionate…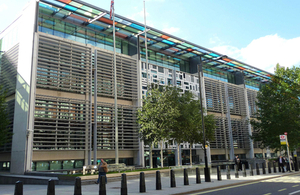 Communities Secretary Eric Pickles has today published guidance to local authorities on how to protect voluntary and community groups from disproportionate cuts to their funding.
It follows warnings from Mr Pickles that councils should not "pull up the drawbridge" in this tough economic climate, but should instead look to give greater support for local groups that do so much for some of the most vulnerable in their communities.
Mr Pickles has also sought to cut reams of red tape on local councils to make it easier and more efficient for them to meet the needs of their residents. The Communities Secretary has scrapped 56 pages of prescriptive statutory guidance on local priorities introduced by the previous Government.
Instead, councils will have only one page of guidance on how best to achieve Best Value in their areas - not just in terms of cost for local taxpayers, but also the wider social and environmental benefits above and beyond the services they provide.
And in deciding how best to fulfil their Best Value Duty, councils are required to consult those using, or likely to use, a local service. This should include community and voluntary organisations.
This new deal sets out that councils should not pass on larger reductions to their local voluntary and community sectors and small businesses than they take on themselves. In particular:
those councils looking to reduce or end funding, or any other support to one of these organisations should give at least three months' notice of the actual reduction to both the organisation involved and the users of the service they provide
councils should involve and discuss their plans with the organisation and local service users as early as possible before making any final decisions on the future of the service; and
councils should give organisations, local service users and the wider community the opportunity to offer options for reshaping and reducing the costs of the services provided.
Central Government departments have already signed up to these same principles.
Mr Pickles said:
Community and voluntary groups provide vital and valuable services to our communities, often aimed at some of the most vulnerable in our society. They deserve a fair deal.

That's why I'm introducing new guidance on councils to consider how they fulfil the Best Value Duty for their communities, not just in stark money terms but also in terms of the wider benefits to residents above and beyond the services that these organisations provide. And in return, I'm cutting reams of red tape that in the past have hampered council efforts to get their important work done.

I'm not asking councils to do anything that I wouldn't do myself, so all Central Government departments are now signed up to these fair new standards.
In the new streamlined statutory guidance Mr Pickles has also clarified that there is no requirement for councils to undertake lifestyle or diversity questionnaires of their residents or their suppliers. Ministers want to see an end to the costly and unnecessary surveys and questionnaires being sent out by some councils alongside responses to residents' queries about rubbish collection or joining the local library. These surveys often ask personal questions about religious beliefs, sexual orientation and ethnicity, often duplicating information already collected in the Census.
Mr Pickles said:
At a time when taxpayers are watching their pennies, the last thing councils should be doing is sending out unnecessary and intrusive questionnaires.

Local residents shouldn't be asked to reveal detailed personal information just because they've enquired about getting their bins emptied or how to join their local library.

Clamping down on such town hall activity will save taxpayers' money and protect the privacy of residents of all backgrounds.
Notes to editors:
1. The new Best Value Guidance applies to all best value authorities, which are councils plus a range of other authorities including Police, Fire, the Broads Authority; and Waste and Transport authorities. It is available at www.communities.gov.uk/publications/localgovernment/bestvaluestatguidance.
2. Eric Pickles first outlined his action plan to support the voluntary and community sector at the National Council of Voluntary Organisations conference in March 2011. Further details on the Communities Secretary's speech can be seen at: www.communities.gov.uk/news/newsroom/1855041.
Twitter
Keep up to date with the Department by following us on Twitter (external link).
Media enquiries
Visit our newsroom contacts page for media enquiry contact details.
Published 2 September 2011