A decade in the un-making
The support buildings for the Dounreay Materials Test Reactor have been decommissioned.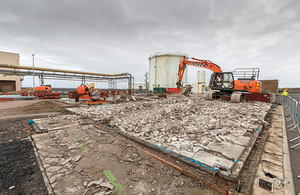 Decommissioning a nuclear reactor is about more than removing the core itself and, around a decade after work started to pull apart a host of support facilities associated with Dounreay's oldest reactor, they have all gone.
Radioactive facilities, including a cooling pond, storage compound and examination cells assisted Dounreay Materials Test Reactor (DMTR) during its operational life. All have now been safely and painstakingly stripped out, culminating in the support building itself being removed from the landscape.
That final demolition included removal of a 27-tonne crane and several hundred pieces of cladding. Work to dismantle the inside of the structure saw remotely operated Brokks being deployed as well as a mobile crane which lifted 26-tonne shielded doors out through the roof.
Published 10 April 2018