A Celebration of the Olympic Truce ahead of London 2012
Foreign Office Minister Henry Bellingham will celebrate conflict prevention and the peace ideals of the Olympic Truce in a speech tonight.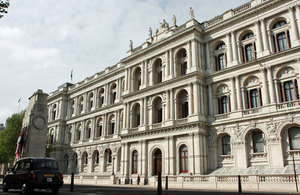 Minister Bellingham will set out what the Foreign Office is doing to implement these ideals in an address to London Diplomatic Missions, Parliamentarians and NGOs. The Olympic Truce, created in ancient Greece, provided safe passage for athletes, artists, pilgrims and families to travel to Olympia for the Olympic Games. The ideals that underpin the Olympic Truce concept are being given fresh impetus once again ahead of London 2012 through national and international activities.
Today the Olympic movement uses the Games to promote peace and generate a common understanding through the shared language of sport, education, and culture. In October last year the UK put forward an Olympic Truce Resolution in the UN General Assembly which was unanimously co-sponsored by all 193 UN Members States. This was a tremendous show of international support, which has since been demonstrated through the broad range of Olympic Truce activities that the UK has undertaken around the world in partnership with National Olympic Committees, host Governments and a range of NGOs. Our diplomatic missions have been bringing together different communities and ethnicities on neutral ground, to participate in various sporting and educational activities, where they set aside social and political differences.
Ahead of this evening's reception, which will bring the International community together in support of conflict prevention and peace, Henry Bellingham said:
"This evening we pay tribute to the historic opportunity the Olympic Truce has presented us with to take conflict prevention and peace ideals internationally. It is important that we do so, as the ideals and values represented by the Olympic Truce are as relevant now as they were in the eighth century BC.
"From soccer in St Lucia to art in Armenia, the international community has truly embraced our commitment to the Olympic Truce. We have worked together to teach children about peace and conflict prevention through educational resources, and to bring people together from conflict-affected and vulnerable communities to engage in their shared love of sport. We have worked in partnership to reconnect unemployed and out-of-school youths with training and employment possibilities, providing an alternative to turning to crime and violence.
"Our success is based on our partnerships. As such, we greatly look forward to continuing our partnership on the Olympic Truce with the United Nations and the International Olympic Committee, as well as Russia and Brazil as future host nations ahead of Sochi 2014 and Rio 2016. Creating new partnerships and raising ambitions for the Olympic Truce ideals is part of the UK's Olympic and Paralympic legacy."
Published 19 June 2012