World news story
A British startup is the winner at Decoded Fashion Milan
The latest technologies for fashion and retail were illustrated at Decoded Fashion Milan, the global forum supported by the GREAT Campaign.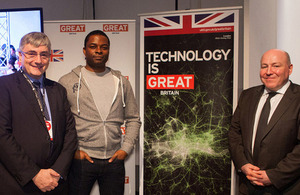 The coordinated action between the UK Trade & Investment (UKTI) and the GREAT Campaign helped to focus the attention of Decoded Fashion Milan participants on the opportunities that the UK offers in the field of innovation, and of innovation for the fashion industry in particular. Fashion is indeed one of the most vibrant and creative business sectors of the United Kingdom and contributes nearly £21bn to the national economy.
Decoded Fashion is at its first edition in Milan, but it has already been organised in London. It is an international forum which explores digital technologies driving innovation in the fashion and retail sectors and illustrates the latest developments for a complete integration of technology, fashion and media. It also includes a startup competition.
The GREAT Campaign at Decoded Fashion Milan
The British government decided to support the Milan forum, which took place on 16 October 2013, through the GREAT Campaign, its most ambitious international marketing campaign ever. GREAT Britain is a country that is both familiar and surprising under many aspects, including innovation, technology and creativity. At Decoded Fashion Milan the GREAT Campaign had its own stand, staffed by the local UKTI team.
Andrew Pike, OBE, Deputy Director GREAT Campaign, was among the distinguished international guests of Decoded Fashion Milan and his mentoring activity was much appreciated by the short-listed startups. The main points in his speech were:
100 celebrities and 100 companies are supporting the Campaign - Richard Branson and Prince Harry to mention just a couple

Britain is a vibrant and energetic place and everyone should come and visit, study and do business in the UK

1 billion Euros have been generated for UK Economy since the start of the campaign

fashion and technology are fundamental to the UK economy

Britain is a GREAT fashion capital and is becoming an increasingly important fashion destination.
Andrew Pike said:
I was delighted to be in Milan to see at first hand the energy, innovation and buzz that the Decoded Fashion Event once again delivered. As an increasingly important international Fashion & Tech Centre, partnering with Decoded and Milan is a natural choice for the GREAT Campaign.
And he added:
I am so happy to be here and pleased Decoded will be back in London next year.
A British winner
The British startup Viewsy came first in the Fashion Pitch with its project Measure and Manage Foot Traffic Like Never. A rapidly growing location analytics startup, it was established in 2011 as a solution to a common problem faced by retailers the world over: understanding customer behaviour in physical space in order to manage businesses better.
Odera Ume-Ezeoke, Founder and CEO Viewsy, declared:
Today we discover that Italy and more specifically its fashion industry is more innovative and forward- thinking than ever. Italians are flexible and agile enough to keep up with the changes in the way retail should be done and can be done and actually lead the way for technology and innovation. So I commend Italy's recognition of great powerful technology. UKTI has been instrumental and envisaged our success to a large degree. In part because of the funding you give for the overseas travel we undertake but also because of course this event wouldn't have come to our attention without you.
Market opportunities in Italy
UKTI staff is constantly engaged in a series of activities to promote innovation and technical transfer between the UK and foreign countries. Despite the challenging economic situation, Italy offers interesting opportunities in the fashion sector and in fashion-related technologies. The Italian distribution and retail systems continue to be very open to British fashion and British designers have always been acknowledged as trend-setters by the Italian press and trade. In addition:
in Italy the purchase of fashion items is among the highest in the world, with a value of €21bn in 2012

Italy is considered by UK brands as a gateway to other foreign fast-growing markets such as Russia, eastern Europe, the Far East

it is a rapidly evolving market and e-commerce has registered a 33% increase in 2012 over 2011; Italians are the best prepared in Europe to buy through smart mobile equipment
In the past few years, the Italian fashion team of UKTI has carried out successful activities to support the UK fashion industry in Italy. Sustainable fashion in particular has been the subject of a series of events organised by UKTI Italy and the Science & Innovation Network in Italy.
Contacts
UKTI Italy can provide support not only to UK-based businesses interested in accessing market opportunities in Italy, but also to Italian companies wishing to invest in the UK. If you are interested in developing your business please contact the UKTI team in Italy.
Published 22 October 2013