Press release
94% support Highways England's proposals to improve A30
Results of feedback from members of the public on proposals to improve the A30.
This news article was withdrawn on
This press release is no longer current.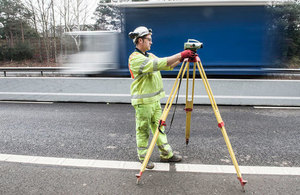 Highways England and Cornwall County Council have published the results of feedback from members of the public on proposals to improve the A30 between Carland Cross and Chiverton Cross near Truro.
More than 1,300 people gave their comments on the existing route, with 94.5% saying they support Highways England's plans to develop an improvement scheme.
Highways England will now begin assessing options for the road, carrying out traffic modelling, as well as environmental and geotechnical assessments. It is expected that a public consultation on route options will take place in the summer of 2016.
Highways England South West director, Andrew Page-Dove said:
These public engagement events, which were held jointly with Cornwall County Council, gave us an excellent opportunity to introduce ourselves to the local community, customers and businesses. They also gave us the opportunity to explain what we are planning to do to deliver the commitment in the Roads Investment Strategy, and get initial feedback.

Gaining this knowledge and understanding is crucial in helping to ensure we develop the best solution for everybody and the invaluable information which has been gathered, will be used in the development of a preferred option. We are very grateful for the Council's support in producing this report.
Nigel Blackler, Cornwall Council's Head Strategy, Economy, Enterprise and Environment, said:
The Council agreed to jointly host these events to help Highways England in developing proposals to improve the A30 between Chiverton Cross and Carland Cross.

We appreciate people taking the time to attend and submit their views, all of which has been reported to Highways England and will be considered in developing detailed proposals which will be the subject of consultation next summer.
The Government has committed funding to the scheme through the Road Investment Strategy 2015-2020 and a contribution will also be sought from the European Regional Development Fund.
The results of the public engagement are available at A30 Carland Cross to Chiverton Cross project site and A30 Carland Cross to Chiverton Cross Public Engagement - Cornwall Council.
General enquiries
Members of the public should contact the Highways Agency Information Line on 0300 123 5000.
Media enquiries
Journalists should contact the Highways Agency press office on 0844 693 1448 and use the menu to speak to the most appropriate press officer.
Published 14 August 2015