Press release
£93 million package of support announced for UK's health industries
Innovative business and academic projects from across the UK's health sector will benefit from a new £93.2 million package of support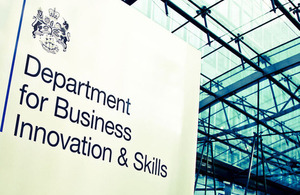 £25.9 million from third wave of Biomedical Catalyst announced
new £38 million National Biologics Manufacturing Centre to be based in Darlington
additional £29.3 million invested in innovative health companies
Innovative business and academic projects from across the UK's health sector will benefit from a new £93.2 million package of support announced today by Universities and Science Minister David Willetts.
The investment includes £25.9 million from round 3 of the Biomedical Catalyst. 29 companies and 5 universities will receive investment from the Catalyst. Projects include clinical trials to 'repurpose' a cancer drug that could be used to treat rheumatoid arthritis (RA) and an implant to reduce pain and restore mobility to knee cartilage injuries.
As part of the recent Spending Review it was announced that there will be additional support for the Catalyst. Academic researchers and universities can continue to apply for additional funding through the Technology Strategy Board (TSB) and Medical Research Council (MRC) in round 4 of the Biomedical Catalyst, which is now open.
In a further boost to the biomedical industry, a new £38 million National Biologics Manufacturing Centre (NBMC) will be based in Darlington. The centre, being funded through investment announced as part of the life sciences strategy, will be a national base for the manufacturing of biological medicines such as antibodies and vaccines.
To complete the package of support, a further £29.3 million of investment in healthcare innovation has been announced through 3 Technology Strategy Board led funding competitions. These will support businesses in areas such as stratified medicine and regenerative medicine.
Universities and Science Minister David Willetts said:
By investing in new technologies now we are maintaining the UK's position as a world leader for innovation. The biomedical industry is a fast moving, high growth sector and the Catalyst has proven to be extremely successful in supporting new business ideas. This investment further drives forward our life sciences strategy.

The new National Biologics Manufacturing Centre will significantly increase the UK's manufacturing capability in biologics, keeping us ahead in the global race and strengthening the UK's position as the location of choice for life sciences companies.
Chief Executive of the Technology Strategy Board, Iain Gray said:
The Biomedical Catalyst programme has already proved a significant success, providing the support companies need to develop their innovations and solve healthcare challenges.

The projects funded through this latest round of the programme demonstrate both the innovative nature of the UK's health R&D sector and the success of the programme in identifying projects with strong commercial potential.
Professor Sir John Savill, Chief Executive of the MRC, said:
Several of the MRC and Technology Strategy Board awards announced today build on previous MRC funding and this research is now reaching an exciting stage of clinical development. It's fantastic to see this investment beginning to bear fruit. It clearly demonstrates that the Biomedical Catalyst is fulfilling its goal of providing seamless support from early research in universities through to commercialisation by small and medium-sized companies. We look forward to continuing our successful collaboration with the Technology Strategy Board into round 4 and beyond.
The Technology Strategy Board is continuing to invest in a range of innovative businesses. Working alongside the Department for Health, £7.3 million will be invested in 4 companies looking to develop personalised approaches to healthcare, known as stratified medicine. This will allow patients to be assessed quickly, effectively and be given the correct treatment for their condition.
£5.6 million will be invested in 5 business-led collaborative projects looking to develop new diagnostic tests for Tuberculosis (TB). These will allow healthcare staff to get rapid results when testing and has resulted in an additional £2.9 million in private sector investment.
An £8.4 million investment has also been made by the Technology Strategy Board in 7 companies and business-led consortiums exploring healthcare solutions in regenerative medicine and cell therapy. These businesses will look at using cells to develop treatments for a range of conditions including strokes and surgical procedures. The funding has attracted a further £5.1 million in private sector investment.
In total these projects alone are worth £29.3 million of investment to the industry.
Notes to editors:
Some of the projects funded today are listed below. Full case studies are available on request.
Business-led projects:
Oxford-based Orthox Ltd have developed a novel implant to replace knee cartilage. Developed to reduce pain and improve the mobility of patients suffering conditions such as osteoarthritis, the implants are made from fibroin, an extract of silk fibres. Strong, smooth and resilient, like cartilage itself, the implant material is also capable of regenerating cartilage tissue. Biomedical Catalyst funding of £1.7 million will allow Orthox to finalise development of the implant and complete testing in clinical and laboratory trials.

Manus Neurodynamica have developed an innovative, user-friendly, low cost tool, that will allow even non-specialists with minimal training to improve early diagnosis of Parkinson's Disease. Based around a sensor pen, the system analyses motion when drawing and writing. Biomedical Catalyst funding of £178, 000 will allow Northumbria NHS Foundation Trust to perform a clinical assessment of the system at North Tyneside General Hospital.
Academic-led projects:
Scientists at Newcastle University have been awarded £1 million by the Medical Research Council for a clinical trial to see whether a drug developed to treat cancer can be repurposed to treat rheumatoid arthritis (RA) in patients who do not respond to existing treatments. The drug works by targeting a different type of cell from conventional therapies and could therefore succeed where conventional treatments have failed. The drug is being developed by Cyclacel Pharmaceuticals, a University of Dundee spin-out that has received 2 previous rounds of Biomedical Catalyst funding.

Scientists at the University of Manchester have received £450,000 of Medical Research Council funding to develop and test a smartphone app to deliver cognitive behavioural therapy (CBT) to people who have experienced a first episode of psychosis. If successful in patient trials, the Actissist app could help patients manage their condition more independently and prevent relapses of psychosis that often require unplanned admission to hospital. This would also lead to significant cost savings for the NHS.
For more information on business-led projects, contact Rod Alexander in the TSB press office. Telephone: 07500 051 101 (out of hours: 07766 901150). Email: rod.alexander@tsb.gov.uk.

For more information on the academic-led projects, contact Hannah Isom in the MRC press office. Telephone: 0207 395 2345 (out of hours: 07818 428 297). Email: press.office@headoffice.mrc.ac.uk.

The Technology Strategy Board is the UK's innovation agency. Its goal is to accelerate economic growth by stimulating and supporting business-led innovation. Sponsored by the Department for Business, Innovation and Skills (BIS), the Technology Strategy Board brings together business, research and the public sector, supporting and accelerating the development of innovative products and services to meet market needs, tackle major societal challenges and help build the future economy. For more information please visit www.innovateuk.org.

Biomedical Catalyst: This joint Technology Strategy Board and Medical Research Council programme offers funding to innovative businesses – who are small and medium-sized enterprises (SMEs) and to researchers looking to work either individually or in collaboration to develop solutions to healthcare challenges. This is a £180 million fund that has already invested £96 million in 115 academic and businesses-led projects. It is jointly managed by the Technology Strategy Board and the Medical Research Council (MRC) to help bridge the so called 'valley of death' between the lab and the market place. www.innovateuk.org/-/biomedical-catalyst.

A new £38 million National Biologics Manufacturing Centre (NBMC) will be based in Darlington. The centre, being funded through investment announced as part of the life sciences strategy, will be a national base, operated by Centre for Process Innovation (CPI) within the High Value Manufacturing Catapult, for the development and demonstration of improved and novel manufacturing processes for biological medicines such as antibodies and vaccines. Darlington was chosen due to its location being close to existing centres of manufacturing and also its good transport links with the rest of the UK. It will also be an integral part of the Darlington Enterprise Zone.

The Small Business Research Initiative (SBRI) programme uses the power of government procurement to drive innovation. It provides opportunities for innovative companies to engage with the public sector to solve specific problems. Competitions for new technologies and ideas are run on specific topics and aim to engage a broad range of organisations. SBRI enables the public sector to engage with industry during the early stages of development, supporting projects through the stages of feasibility and prototyping.

Over the past century, the Medical Research Council (MRC) has been at the forefront of scientific discovery to improve human health. Founded in 1913 to tackle tuberculosis, the MRC now invests taxpayers' money in some of the best medical research in the world across every area of health. Twenty-nine MRC-funded researchers have won Nobel prizes in a wide range of disciplines, and MRC scientists have been behind such diverse discoveries as vitamins, the structure of DNA and the link between smoking and cancer, as well as achievements such as pioneering the use of randomised controlled trials, the invention of MRI scanning, and the development of a group of antibodies used in the making of some of the most successful drugs ever developed.

Today, MRC-funded scientists tackle some of the greatest health problems facing humanity in the 21st century, from the rising tide of chronic diseases associated with ageing to the threats posed by rapidly mutating micro-organisms. www.mrc.ac.uk. The MRC Centenary Timeline chronicles 100 years of life-changing discoveries and shows how our research has had a lasting influence on healthcare and wellbeing in the UK and globally, right up to the present day. www.centenary.mrc.ac.uk.

The government's economic policy objective is to achieve 'strong, sustainable and balanced growth that is more evenly shared across the country and between industries'. It set 4 ambitions in the 'Plan for Growth', published at Budget 2011:
to create the most competitive tax system in the G20
to make the UK the best place in Europe to start, finance and grow a business
to encourage investment and exports as a route to a more balanced economy
to create a more educated workforce that is the most flexible in Europe
Work is underway across government to achieve these ambitions, including progress on more than 250 measures as part of the Growth Review. Developing an Industrial Strategy gives new impetus to this work by providing businesses, investors and the public with more clarity about the long-term direction in which the government wants the economy to travel.
Published 31 July 2013