Press release
9,000 litres a minute pumped away from A1 at Catterick
A high volume pump that is capable of removing 9,000 litres of water a minute has been deployed to the A1 at Catterick following heavy rainfall today.
This news article was withdrawn on
This press release is no longer current.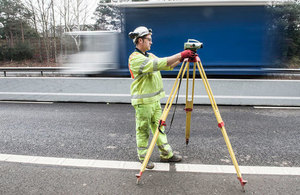 The northbound carriageway has been closed at Leeming Bar since just before 9am while Highways England along with North Yorkshire Fire Service pump the water, that was 3 to 4 foot deep and covered 300 metres of the carriageway at its height, into the River Swale.
Located on the A1 at Bradbury, this is the first pump of its kind to be purchased by Highways England to deal with such events following a major flooding incident in 2012.
The northbound carriageway remains closed and Highways England is working to reopen it as soon as possible. Drivers are being diverted from Leeming Bar along the A684 on to the A19 and along the A689, and back on to the A1.
The planned overnight closure tonight as part of the A1 Leeming to Barton scheme has been postponed between Catterick North and Catterick South as a result of the incident.
General enquiries
Members of the public should contact the Highways England customer contact centre on 0300 123 5000.
Media enquiries
Journalists should contact the Highways England press office on 0844 693 1448 and use the menu to speak to the most appropriate press officer.
Published 7 October 2015