Press release
£9 million available for future of Maritime Autonomous Systems
The Defence Science and Technology Laboratory is making £9 million available to support the future of Maritime Autonomous Systems.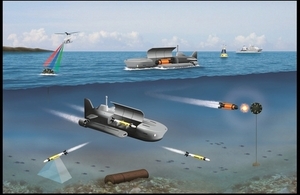 The Ministry of Defence through the Defence Science and Technology Laboratory and in partnership with a number of associations and industry bodies is making funding available through four initiatives each addressing different areas of maritime autonomy.
Autonomy in Maritime Unmanned Vehicles offers the potential to transform the manner in which many activities are conducted at sea such as the clearance of sea mines and persistent wide area surveillance.
Philip Smith, Affordable Maritime Presence Programme Manager at Dstl says:
The opportunities presented by Maritime Autonomous Systems are very exciting. However if we are to fully exploit these opportunities we need to invest in key areas such as "Supervised Autonomy" and "Deployment & Recovery" in order to meet future requirements and position the UK as a world leader in next generation Maritime Mission Systems. The funding we are making available through these four initiatives is a significant step towards achieving this.
The specific initiatives are:
Published 30 July 2014