News story
£9.5 million crackdown on social housing cheats
Councils to receive funding to help combat social housing fraud.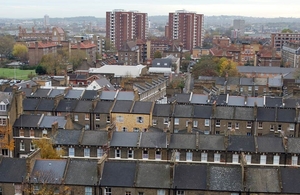 Housing Minister Mark Prisk today (3 April, 2013) announced a multi-million pound boost to council-led efforts to combat social housing fraud and ensure homes go to those who truly need them.
Fraudsters who live elsewhere and rent out their social home can cost the taxpayer as much as £900 million a year, while making thousands of pounds in profits from their so-called tenants.
Today, Mr Prisk confirmed that 62 councils will benefit from a share of £9.5 million to bolster their activity to crack down on this behaviour – from specialist investigation teams to advanced data-matching.
The minister said this work was vital to ensuring that the valuable resource of social housing goes to those who need it most.
The most successful tenancy teams leading this sort of targeted activity can recover more than 100 local homes a year – and can uncover even larger cases of benefit fraud.
Protecting the public purse
Recently, the government backed a Private Member's Bill by Conservative MP for Watford Richard Harrington, which makes sub-letting a criminal offence.
Due to come into force this summer, the Prevention of Social Housing Fraud Act 2013 will mean perpetrators could face a fine and a custodial sentence of up to 2 years, while councils will be able to recover the proceeds of sub-letting social homes.
Previously, fraudsters faced little more than losing their tenancy.
Mark Prisk said:
"Tenancy cheats and fraudsters deny social homes to people in genuine need of this valuable resource, while costing the taxpayer hundreds of millions of pounds.
"That's why we're cracking down on this criminal behaviour with a £9.5 million fund to back locally-led efforts to tackle the tenancy cheats and giving greater powers to the police and councils so perpetrators face the full force of the law."
Further information
Allocations of the £9.5 million funding are published today.
The Audit Commission estimated in 2009 there were at least 50,000 unlawfully occupied social homes in England.
Today's action is aimed at social tenants who let out their whole home to a third party for profit. Social tenants are allowed to take in a lodger.
Published 3 April 2013