World news story
88 Student leaders to visit the UK
The 88 Generation Student leaders will visit the UK on a 8-day trip from June 18 to 25.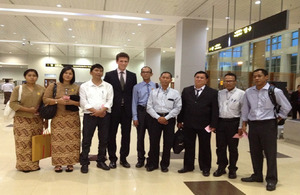 The eight-member group will be led by prominent pro-democracy activist, Min Ko Naing, former Chairperson of the All Burma Federation of Student Unions, and Ko Ko Gyi. The group will also include Mya Aye, Htay Kywe, Thin Thin Aye, Min Zeya, Kyaw Kyaw Htwe and Ni Lar Thein. The visit is jointly organised by the British Embassy and the British Council in Rangoon.
The group will meet UK Foreign and Commonwealth Office Ministers. They will visit the House of Commons and hold discussions with parliamentary stakeholders from the All-Party Parliamentary Group on Democracy in Burma.
They will travel to Northern Ireland to study the peace process. They will visit Oxford University to see facilities for higher education and to meet interested students and academics. They will also meet youth and civil society organisations at the British Council headquarters.
The group will also meet NGOs, including human rights NGO Amnesty International and interfaith organisation 'Faith Matters'. They will also be visiting several museums to enjoy British culture and also hold an event with the Burmese diaspora community in Britain.
H. E. Mr Andrew Heyn, the British Ambassador to Burma said:
I am delighted that the 88 Generation will be visiting the UK. It is an exciting moment, and one that I could never have imagined would be possible when I first arrived here as Ambassador. I know that UK ministers, parliamentarians, and NGOs are looking forward to discussing with 88 Generation their work in support of human rights, democratisation, and building an open and inclusive society. This visit is part of the UK's engagement across politics and civil society here, and follows recent visits to the UK by government ministers, ethnic minority leaders, and, last year, Daw Aung San Suu Kyi.
Further information
Follow the British Embassy Rangoon on Facebook
Follow British Embassy Rangoon on Twitter @ukinburma
Follow the British Council Myanmar on Facebook
Published 19 June 2013