845 Naval Air Squadron achieves the highest standards in naval aviation
845 Naval Air Squadron (NAS) can officially call itself the premier naval squadron after being awarded the prestigious Breitling Trophy.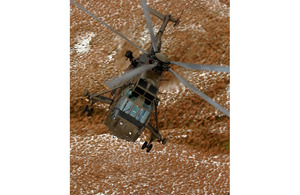 The squadron, based at Royal Naval Air Station Yeovilton in Somerset, was presented with the award after achieving the best overall assessment during a naval flying standards inspection in recognition of professionalism and excellence in naval aviation marking them out as the best in the Fleet Air Arm.
The 'Junglie' unit, which celebrated 50 years in the commando role earlier this year, is no stranger to this award, having won it just two years earlier. Inspected last November the squadron was put through its paces with an intensive flying programme covering a broad range of exercises that make the aircrew and engineers operating the Commando Sea King Mark 4 unique.
With the squadron operating at such a high tempo with personnel and aircraft returning from Afghanistan, preparing to go to sea on board HMS Illustrious, or on exercise in the Highlands of Scotland, the inspection could not have come at a busier time. With the engineers working flat out to ensure there were serviceable aircraft to meet the flying programme it is truly an award that the entire squadron feels proud to receive.
The Commanding Officer of 845 NAS, Commander James Newton, said:
To win this honour against such fierce competition at a time when the squadron is as busy as ever is a huge testament to the men and women of this unit.
With the Sea King due to leave service in 2016 and being replaced by the Merlin, currently in service with the RAF, the pilots and aircrew have proved there is life in the old girl yet.
Commander Newton went on to say:
Having had both aircrew and engineers start training and operating on the new aircraft type at RAF Benson, we have had to ensure our standards remain at the very highest level. Whilst in this transition period we are still, and will be for the next few years, on call to operate anywhere in the world.
The trophy was presented by Rear Admiral Tom Cunningham, Assistant Chief of the Naval Staff (Aviation and Carriers) and Rear Admiral Fleet Air Arm, to Lieutenant Commander Ed Adams, the squadron's training officer. The Admiral praised the squadron for its considerable endeavours both on operations in Afghanistan and on global exercises, adding their achievements were nothing short of remarkable.
Published 24 September 2012