World news story
800th anniversary of UK-Morocco ties
The British Embassy in Rabat celebrates 800 years of diplomatic ties between the UK and Morocco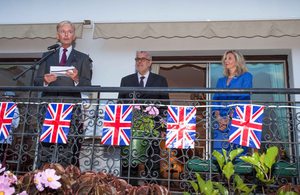 This week the British Embassy in Rabat celebrated the 800th anniversary of diplomatic contacts between the United Kingdom and Morocco. In 1213, King John of England (not yet the United Kingdom) dispatched the country's first embassy to Morocco. The aim of that first diplomatic mission was to make contact with the court of Morocco's Sultan Mohamed Ennassir – the fourth Sultan in the Almohad dynasty. King John hoped he could secure the Almohads' support in England's conflicts with European enemies.
That mission is recognised now as the starting point for a relationship which has grown more fruitful over the centuries. 800 years on, the UK-Morocco relationship is as strong as it has ever been. Some highlights of the bilateral relationship:
There are close ties between the Royal Families of the United Kingdom and Morocco. The two countries share a long history as monarchies. The Prince of Wales and The Duchess of Cornwall visited Morocco as personal guests of King Mohammed VI in 2011.

Ministerial contacts are also close and frequent. The British Foreign Secretary, William Hague, and the Minister for North Africa Alistair Burt, both visited Morocco last year. The Moroccan Minister for Foreign Affairs Dr Saad-Eddine El Othmani paid his first official ministerial visit to London in April 2013

There are some 25,000 Moroccans living in the UK, and an estimated 500,000 British tourists visit Morocco every year

The UK is supporting Morocco's ongoing reform process, in partnership with the Moroccan government and civil society. The Embassy's project funding of £1m per year is focused on encouraging political participation and supporting the fight against corruption

In 2012, bilateral trade in goods between the two countries passed £1bn for the first time

More and more Moroccans are learning English for business and pleasure: in 2012 the British Council's 'learn English' website had over 1m hits.
Speaking at The Queen's Birthday Party in Rabat on 4 June 2013, attended by representatives of Moroccan civil society and government, including Head of Government Mr Benkirane, British Ambassador to Morocco Clive Alderton said:
"Despite our being wrapped in the folds of 800 years of friendship, the UK/Morocco relationship is far from being stuck in ancient times. As friends, partners and equals we are working closely with Morocco in a range of areas and finding ways to co-operate for mutual benefit. This means constructing win-win partnerships; seeing the Bigger Picture in order to transcend the boundaries of Faith and Community. It is a principle which remains as valid and important today as it was eight centuries ago."
Published 7 June 2013