News story
£800 million boost for Edinburgh's UK Green Investment Bank
UK Green Investment Bank (UK GIB) will get £800 million additional funding for 2015/16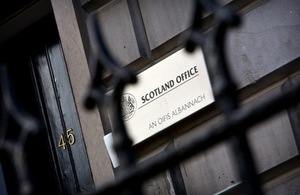 Welcoming the announcement today by Business Secretary Vince Cable that the UK GIB is to receive an additional £800m for 2015/16, Scottish Secretary Michael Moore said:
"This is excellent news for the UK Green Investment Bank, and demonstrates the UK Government's continuing commitment to the success of this ground-breaking, Edinburgh-headquartered institution. On top of the initial £3bn of UK Government money provided to capitalise the Bank, it means that the UK GIB will be able to allocate a total of £3.8bn to key sectors such as offshore wind and energy efficiency in the period to 2016.
"In its first five months of operation, the Bank has generated £3 of private sector investment for every £1 it has invested, in projects that are expected to reduce greenhouse gas emissions by the equivalent of taking 1 million cars off the UK's roads. Those figures show what great potential exists for the Bank to be an enduring institution that plays a transformative role in our low carbon economy.
"In doing so, the Bank will be drawing on world-renowned expertise in the Scottish financial and green sectors, while benefiting from a strong transaction team in London with excellent links into the City. This partnership between two of the UK's leading financial centres exemplifies the strengths of the United Kingdom and Scotland's place in it. Together we can harness strengths that apart we could not."
Note to editors
Further information on Vince Cable's announcement can be found here.

The UK GIB was launched in November 2012 with £3 billion of funding from the UK government. It is the first bank of its kind in the world. It is a "for profit" bank, whose mission is to accelerate the UK's transition to a greener economy, and to create an enduring institution, operating independently of government. Further information including the annual report can be found at www.greeninvestmentbank.com.
Published 27 June 2013