News story
8 benefits to Scotland from the UK's Defence and Armed Forces
The UK Armed Forces have a proud and distinguished history, here are 8 benefits to Scotland.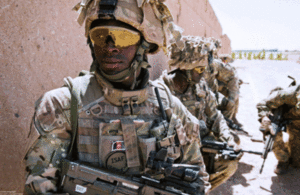 1. Membership
As UK citizens, thousands of people from Scotland are employed in the UK Armed Forces and Ministry of Defence. We are planning to increase Military personnel numbers in Scotland to 12,500 by 2020, this will be their highest level since 2007.
2. Employment
Her Majesty's Naval Base Clyde is the biggest employment site in Scotland, with 6,700 military and civilian jobs. This is set to increase to 8,200 by 2022. Overall there are nearly 10,500 Regular Armed Forces and 4,000 MOD civilian personnel from across the UK and beyond working in Scotland.
3. Basing
By 2020 Scotland will be home to all the Royal Navy's submarines, a British Army Adaptable Force Brigade and a RAF fast jet main operating base. These bases generate jobs, business opportunities and the need for other supporting services, such as primary schools, across Scotland.
4. Reserves
The UK Government plans to increase the size of the Reserves. By 2018 there will be an estimated 4,250 trained Volunteer Reserves in Scotland.
5. Armed forces welfare
The UK and Scottish Governments work together to uphold the Armed Forces Covenant giving veterans and members of the UK Armed forces more support than ever before, and delivering grants to charitable projects.
6.Benefits to the economy
Scotland benefits from billions of pounds of Ministry of Defence contracts placed directly and indirectly with hundreds of companies. The strong defence industrial sector in Scotland employs around 12,600 people across Scotland, keeping people in jobs and making significant contributions to local and regional economies.
7. Strong Scottish defence industry
From around 2015, the Clyde will be the only site in the UK where complex warships are built, this will keep highly-skilled jobs on the Clyde. There are currently around 4,000 jobs in Scottish shipyards directly linked to the Queen Elizabeth Class aircraft carrier programme. Additionally many companies who work for the Ministry of Defence have sites in Scotland, including Babcock, BAE Systems, Rolls-Royce, Selex ES, Thales and Raytheon.
8. International Security through peacekeeping
The security of the UK, including Scotland, is served by the UK's international and longstanding alliances and membership of organisations like the UN, Nato and EU. These relationships mean that the UK is well placed to exercise global influence, and to contribute to international peacekeeping and security operations.
Published 21 August 2014