News story
£750,000 boost for turning ideas into business reality
Winning projects come from areas such as healthcare and computer games design to intellectual property valuation and social enterprise, with…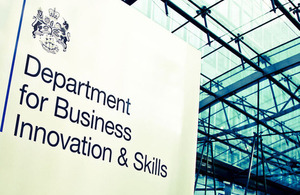 Winning projects come from areas such as healthcare and computer games design to intellectual property valuation and social enterprise, with one notable winner being the University of the West of England's (UWE) "Bloodhound@University" project which received £80,000 in funding from the Intellectual Property Office. "Bloodhound@University" is part of the prestigious Bloodhound SSC world land speed record project which will create novel technologies and processes to achieve its goal of 1,000mph. UWE have designed the 'Bloodhound Open Access User Community Model' where intellectual property generated from the innovative design/engineering will, via Higher Education Institutions and open-source methods, be made available to UK manufacturing, mainly to small and medium enterprises. This will help to improve the manufacturing competitiveness of UK industry.
Announcing the successful projects, the Minister for Intellectual Property, Baroness Wilcox said:
"I am delighted to reward these projects for their role in helping hubs of innovation in UK universities to harness the intellectual property derived from their leading research and to collaborate with our most innovative and responsive industries. Bridging the gap between innovation and industry is key, and is vital for the UK's continued growth, and these projects do just that. I look forward to seeing the real difference this year's winners will bring to university and industry relationships."
Following on from the highly successful 2011 competition, the 2012 Fast Forward Competition provides individual projects with funding ranging from £10,000 to £90,000. The money is awarded to encourage innovative approaches to knowledge transfer from university research to real world products and services. The competition was open to UK universities and Public Sector Research Establishments and saw over 50 entries with 13 projects standing out as worthy of financial support.
Notes to editors
---
The 2012 Fast Forward Competition awards prizes for projects that improve the management of Intellectual Property (IP) and Knowledge Exchange (KE), thereby creating new companies or services which benefit both the UK economy and society. It aims to encourage Higher Education Institutions and Public Sector Research Establishments to work with businesses and local communities to develop innovative KE practices that set, test, develop or embed best practice. Further information relating to the Fast Forward Competition can be found at: http://www.ipo.gov.uk/fastforward.htm

The Intellectual Property Office (IPO) is within the Department for Business, Innovation, and Skills (BIS) and is responsible for the national framework of IP rights, comprising patents, designs, trade marks and copyright. Its role is to help manage an IP system that encourages innovation and creativity, balances the needs of consumers and users, promotes strong and competitive markets and is the foundation of the knowledge-based economy. It operates in a national and an international environment and its work is governed by national and international law, including various international treaties relating to IP to which the United Kingdom is a party.

The winners of the 2012 Fast Forward Competition are:
Regions: Bristol, York, Sheffield & Southampton
Amount: £90,000
University of the West of England, University of York, University of Sheffield, and Southampton Solent University
Project: "Knowing and Growing 2012 (K&G)" This is a continuation of the 2011 winning project from UWE and will help innovators in health and social care maximise the benefit of their work in these fields by giving them access to an Innovation Team. This team will include a variety of experts who will coach these innovators on how to gain benefit from their intellectual property and support them in collaborating with others.
Contact: **Lorna Collins, 0117 3283182, lorna.collins@uwe.ac.uk**
Region: **Bristol
**Amount: £80,000
University of the West of England
Project: "Bloodhound@University" Bloodhound SSC (www.bloodhoundssc.com) is a world land speed record project, which will create new technologies and processes to achieve its goal of reaching a land speed record of 1000 mph. Intellectual Property created by the project will be made available to UK manufacturing in an open-source way and aims to support SMEs in particular.
Contact: Tracey John, 0117 3283860, Tracey2.john@uwe.ac.uk
Region: Swansea
Amount: £80,000
Swansea University
Project: "IP Forecast: an early stage value assessment methodology for intellectual assets tailored for the UK research context" This project will look at how the intellectual assets created by university research can create value for the university and the economy is often not assessed until a late stage of the research process. This project will develop a model to aide understanding at an earlier stage and test it in different technologies to assess its effectiveness.
Contact: **Dr Gerry R Ronan, 01792 606578, g.a.ronan@swansea.ac.uk**
Region: **Exeter
**Amount: £80,000
University of Exeter
Project: "Growing innovation management capability to sustain Knowledge Exchange" By understanding how different businesses manage innovation this project aims to identify the best way in which transfer of knowledge from university research to real world products and services through collaboration with business can be undertaken.
**Contact: **Professor John Bessant, A.T.Alexander@exeter.ac.uk
---
Region: **Sheffield
**Amount: £77,000
Sheffield Hallam University
Project: "Early Bird IP" This project will encourage creators of new Intellectual Property to put forward their ideas at an early stage for 'crowd assessment'. Their ideas will be assessed by a 'crowd' of people from universities and businesses and it is envisaged that this will encourage early engagement between creators and business in the development of university Intellectual Property.
Contact: **Dr John Kirby, 0114 2256773, john.kirby@shu.ac.uk**
Regions: **Portsmouth, Southampton, Bournemouth
**Amount: £75,000
University of Portsmouth, University of Southampton, and University of Bournemouth
Project: "Creation of a unique cross-organisational innovation and knowledge exchange campus with the purpose of identifying, enhancing and supporting the exploitation of IP within SMEs in the region" Three leading south coast universities will share best practice in knowledge exchange and business services to create a partnership that will improve the impact of university Intellectual Property in the region. Board members of SMEs in the region will be targeted as 'agents-for-change' in transferring university research to real world products and services.
Contact: **Sarah Duckering, 023 92842977, sarah.duckering@port.ac.uk**
Region: London
Amount: £65,000
University College London
Project: "From ideas to social enterprise: the integration of social enterprise in university technology transfer" This project will develop an online toolkit that will help university staff and students working on social innovations to work with university technology transfer professionals. The toolkit will give them information on best practice and access to examples of business models they can use and case studies of successful initiatives.
Contact: **Professor Mordechai Haklay, 020 76792745 m.haklay@ucl.ac.uk**
Region: **Cambridge
**Amount: £52,000
Papworth Hospitals NHS Foundation Trust
Project: "Clinical expertise database for increased knowledge transfer in the NHS" This project will develop a web based tool that will help companies gain access to expert clinical opinion on the development of new medical technology. Companies often struggle to gain access to clinical and research staff willing to work with them on developing innovations which address unmet clinical needs. This web based tool will help them to overcome these barriers.
**Contact: **Robert Donald, 01480 364517, robert.donald@hee.org.uk
Region: **Didcot
**Amount: £48,000
STFC Innovations Ltd
Project: Using GEMS to discover and unlock IP value from academic research" This project will use 'Gems' - entrepreneurs with extensive relevant industrial experience - to improve transfer of knowledge from university research to real world products and services. A successful pilot has already been undertaken and this project will expand this pilot to two university partners and an industry network with the aim of creating a self-sustaining programme.
**Contact: **Ian Tracey, 01235 778386, ian.tracey@stfc.ac.uk
Region: **Dundee
**Amount: £43,000
University of Abertay Dundee
Project: "The Dare Repository" This project will unlock access to a wealth of largely unknown and undistributed computer-games related content and software generated over the course of the last eleven years of the University's 'Dare to be Digital' Competition. A panel of computer-games industry experts will help assess the suitability of older products for use in modern digital platforms and simple licensing arrangements will be put in place for use of existing Intellectual Property in these new platforms.
**Contact: **Dr Margaret Hartnett, m.hartnett@abertay.ac.uk
Region: **Portsmouth
**Amount: £30,000
University of Portsmouth
Project: "IPASS (Intellectual Property Advice and Support Service)" In an increasingly competitive jobs market, students are being encouraged to start their own businesses but they often lack the knowledge needed to protect and commercialise their Intellectual Property (IP). This project will provide new student business initiatives with advice on commercialising their IP from law students in the university.
**Contact: **Joe Sekhon, 023 92844102, joe.sekhon@port.ac.uk
Region: **Leicester
**Amount: £18,000
University of Leicester
Project: "Student Ventures: a bridge to more effective Knowledge Transfer" This project will help university support their student entrepreneurs in transferring their innovations to real world products and services using a web-based tool to provide more student entrepreneurs with information and advice. Student enterprise champions will also be created to work alongside university technology transfer professionals to support acceleration of commercialisation of academic work.
Contact: Rajinder Bhuhi, 0116 2297679, rkb14@le.ac.uk
Region: **Bradford
**Amount: £11,000
Bradford University
Project: "The sharing of technology transfer protocols relating to the research exemption across a range of regional public sector institutions" The relevance of the exemptions in patent law for particular research activities is often not well understood. This project will consider how national and international best practice can be used to help researchers make good decisions on others' Intellectual Property when undertaking their research.
**Contact: **Dr Mark Van Hoorebeeke, m.vanhoorebeek@bradford.ac.uk
BIS's online newsroom contains the latest press notices, speeches, as well as video and images for download. It also features an up to date list of BIS press office contacts. See http://www.bis.gov.uk/newsroom for more information.
Notes to Editors
Contact Information
Name BIS Press Office Job Title
Division COI Phone
Fax
Mobile
Email NDS.BIS@coi.gsi.gov.uk
Name Veena Mapara Job Title
Division Department for Business, Innovation & Skills Phone 020 7215 5614 Fax
Mobile
Published 9 March 2012