Press release
70 resettlement prisons announced for England and Wales
A crucial step forward in transforming the way offenders are rehabilitated was mapped out today as Justice Secretary Chris Grayling announced a nationwide network of resettlement prisons.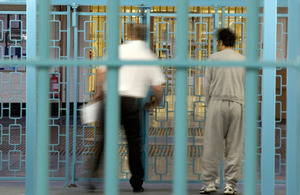 The reforms will mean all offenders leaving custody receive 'through the gate' supervision and support to turn their lives around.
The introduction of 70 resettlement prisons across England and Wales will mean the vast majority of offenders are released from prisons in, or close to, the area in which they will live. This will mean they can begin working towards their rehabilitation in the community from the moment they arrive in prison.
It will also mean frontline staff outside prison can begin laying the groundwork and building links with the offender at the earliest opportunity. This will include seeing them come out to employment or training, and support to tackle drug and alcohol addictions.
Trials will begin in the North West of England in the autumn with full roll out by autumn 2014.
Justice Secretary Chris Grayling said:
'Rehabilitation in the community must begin behind the prison walls and follow offenders out through the gates if we are to stand a chance of freeing them from a life of crime.
'Currently a local area could expect to receive offenders from dozens of prisons across the country - this is hopeless. It is little wonder we have such high reoffending rates when you have a prisoner leaving HMP Liverpool, given a travel permit to get them home to the south coast, and then expected to simply get on with it.
'This approach is a significant step forwards in our reforms to tackle reoffending and lays the groundwork for building a genuine nationwide network of 'through the gate' supervision and support for all offenders.'
Our aim is for every offender released from custody to receive statutory supervision and rehabilitation in the community. The Offender Rehabilitation Bill currently before Parliament will extend statutory supervision to 50,000 short-sentenced offenders each year, who will serve their time in custody in a resettlement prison and come out to a tailored package of supervision and support.
Those serving longer sentences will continue to serve their sentences in the most suitable prison to address their offending behaviour and the majority will be moved to a resettlement prison at least three months before the end of their time in custody.
Currently those serving less than 12 months are released without any statutory supervision and often from prisons in a different area of the country from where they will be living. Those serving longer sentences currently could also be released from anywhere in the country, without reference to where they may be living in the community.
The women's estate is subject to a separate review announced by the Justice Secretary in January, which will report later in the summer. We have also been scoping how young adults (18-20 years) are managed and accommodated in custody. This work will help shape how we can best meet the needs of young adults through the resettlement prison plans in due course.
The resettlement prisons will be aligned with our new 21 contract package areas (CPAs) across the country, as laid out in our Transforming Rehabilitation reforms. These areas will see private, voluntary and public sector workers bidding to provide community based rehabilitation work in each area. And they will only be paid in full if they are successful at cutting reoffending in their area.
Currently, adult male prisoners are being released to the new London CPA from up to 100 different prisons across England and Wales; from 2014 the vast majority of adult male offenders living in London will be released from just 11 resettlement prisons assigned to the area.
Notes to editors
For further details on our Transforming Rehabilitation reforms please go to http://www.justice.gov.uk/transforming-rehabilitation
For more information please call the Ministry of Justice press office on 020 3334 3536
Published 4 July 2013