Press release
£7 million for Devon's growing firms to help create 400 jobs
Two major Devon employers now have access to grants worth more than £7 million thanks to the government's Regional Growth Fund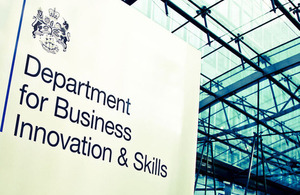 During a two-day visit to the South West, Dr Cable confirmed that Princess Yachts could start drawing down its £4.6 million grant to help the company invest over £35 million in a new superyacht hall. This investment has already created 290 jobs and helped safeguard 400.
The Business Secretary also visited Plessey which can now access its £3.1 million RGF grant to establish a manufacturing facility for Light Emitting Diodes at their Plymouth site - an investment which is expected to create 108 jobs and safeguard 199 more.
Business Secretary Vince Cable said:
Growing businesses like Princess Yachts and Plessey Semiconductors that are creating high tech, and highly skilled jobs are precisely the sort of companies that the government wants to support.
Through the Regional Growth Fund, and more widely through our long term industrial strategy, government can give business the clarity and confidence to invest for the long term. That creates growth, and jobs for people here in the South West and all across the country.
Vince Cable has been leading development of the government's industrial strategy which looks to the future and presents a long-term, whole of government approach to supporting British business, giving them the confidence they need to invest, hire staff and grow. During his tour he visited Supacat in Honiton which links to key industrial strategy sectors: oil and gas, and renewables.
Supacat, which has built a strong reputation developing specialist high-mobility all terrain vehicles including the British Army's Jackal, is diversifying its business from focusing on defence into the marine, oil and gas and renewables sectors. It has already designed and is now building the Royal National Lifeboat Institution's new Launch and Recovery System and is currently building a flexible, multi-role support vessel aimed at the offshore engineering sectors including the support to offshore windfarms.
Notes to editors
The Business Secretary's tour will continue on Tuesday 9th April with visits in Cornwall where he will be visiting the St Austell Brewery to talk about the government's forthcoming Pub Companies and Tenants Consultation and A&P Falmouth where he will learn about current barriers to growth at this busy port; one of Cornwall's largest employers.

The RGF is a £2.6 billion fund operating across England from 2011 to 2016. It supports projects and programmes that lever private sector investment to create economic growth and sustainable employment. The fourth round of RGF is now closed and Ministers will announce the bids selected to receive a share of the £350 million available in the summer. For more information please visit www.gov.uk/understanding-the-regional-growth-fund

Plessey were also successful bidders, in collaboration with Zeta Controls, for £1.6 million of Advanced Manufacturing Supply Chain Initiative funding to establish an indigenous supply chain in the UK for new generation solid state lighting. A conditional offer has been received and the project is currently subject to satisfactory completion of 'due diligence' – anticipated by mid April.

Supacat was established in 1981 and has a complete design and engineering capability; including testing, prototype manufacture, certification, low rate production and fleet support. In the late 1990s it designed the High Mobility Transporter (HMT or Jackal) to meet a military requirement for an agile, all-terrain vehicle. In the 2000s it designed a Lifeboat Launch & Recovery System for the RNLI. Supacat has grown and diversified into new sectors, such as Renewable Energy, Oil & Gas and Marine. It employs approximately 120 people at its facility at Dunkeswell, East Devon. http://www.supacat.com/

The government's economic policy objective is to achieve 'strong, sustainable and balanced growth that is more evenly shared across the country and between industries.' It set four ambitions in the 'Plan for Growth' (PDF 1.7MB), published at Budget 2011:

To create the most competitive tax system in the G20
To make the UK the best place in Europe to start, finance and grow a business
To encourage investment and exports as a route to a more balanced economy
To create a more educated workforce that is the most flexible in Europe. Work is underway across government to achieve these ambitions, including progress on more than 250 measures as part of the Growth Review. Developing an Industrial Strategy gives new impetus to this work by providing businesses, investors and the public with more clarity about the long-term direction in which the government wants the economy to travel.
Published 8 April 2013