News story
£67 million to support UK's world leading science sector
4 business 'incubator' centres in Oxford will between them receive £67 million of investment to develop world leading science technology.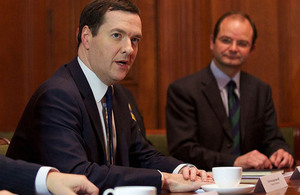 Today (Tuesday 28 January) the Chancellor, George Osborne announced that 4 business 'incubator' centres in Oxford will between them receive £67 million of investment to develop world leading science technology.
The government will provide £30 million to be complemented by industry, Local Authorities and Universities, taking the total to over £67 million for the area.
Each of the centres works with small businesses that specialise in bringing cutting edge scientific research to market, and the funding will be vital to support these small companies to grow and get their world-leading products to market. This is how Britain will stay at the front of the global race in science.
Find out what else the government is doing to support and grow the UK economy
Science is one of the UK's fastest growing sectors of job creation, with the potential to contribute billions to the UK economy each year through attracting investment and exporting our world-leading technology. Oxfordshire is already a global centre for enterprise and innovation in science and one of the fastest growing areas in the UK due to significant inward investment.
The funding will establish the region as a centre for high-tech production, attracting investment from both global and smaller companies into advanced manufacturing for jet and aerospace technology, medical research, nuclear engineering, superfast computers and robotics, and this announcement is the centre piece of the Oxford city deal.
The Chancellor said:
By taking difficult decisions and by working through our long term economic plan we are able to support growth boosting sectors like science. That's why I'm announcing today that together with local authorities and industry, we're investing £67 million into centres which help small science companies take their products to market, creating jobs and helping to secure a recovery for all.
Oxfordshire is internationally recognised as a hub of innovation and we have to keep this up. The government will set out how we're improving local infrastructure and investing in skills so we can take full advantage of these facilities in the Oxford and Oxfordshire City Deal later this week.
Visiting the Begbroke Science Park, the Chancellor announced over £4million of funding to build a new 'Innovation Accelerator' for small high tech manufacturing businesses that specialise in robotics, parts for car and jet engines and superfast computers. The project, which will be funded by government and additional funding from Oxford University, will support researchers to get their products ready for market.
£11 million of government funding will go towards the 'Oxford Bioescalator' in Headington, which nurtures small bioscience and medical companies, allowing them to share technology and expertise to develop innovative products so that Britain can remain globally competitive in a growing market and get much needed medical products onto the shelves. The funding will be matched by private investment and the local authority.
Nearly £8 million which will by matched by private sector will support the expansion of a centre for excellence in engineering technology at Culham, which develops 'remote handling' machinery used in the construction industry.
A further £7 million government investment will be matched by private sources for the development of high-tech science machinery at the world leading Harwell research centre, which currently employs over 4,500 people and houses state of the art facilities including the 'Diamond Light Source' particle accelerator and the European Centre for Space Applications and Telecommunications (ECSAT), part of the European Space Agency.
Commenting on the funding for Begbroke, Professor Andrew Hamilton, Vice-Chancellor of the University of Oxford, said:
Oxfordshire is already a powerhouse of innovation and wealth creation – it was recently ranked amongst the world's top five 'hotspots' for innovation – and it is crucial that we build on the region's unique strengths.
Creating a regional environment in which entrepreneurial activity can thrive is good for Oxfordshire and good for Oxford University in its mission to continue to attract the best students and researchers from around the world.
Published 28 January 2014