News story
£60m small business scheme launched through Regional Growth Fund
The CDFA will receive £30 million from the Government's Regional Growth Fund (RGF) which has been matched with a further £30 million by the …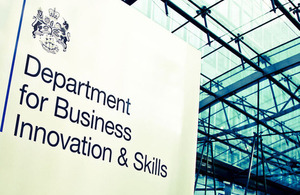 The CDFA will receive £30 million from the Government's Regional Growth Fund (RGF) which has been matched with a further £30 million by the Co-operative Bank and Unity Trust Bank to provide lending to small, micro and social enterprises.
The funding is expected to create or safeguard over 8,000 jobs over six years across the country and meet some of the growing demand from small businesses for access to finance and drive investment in often fragmented communities.
To see how future projects will be supported through RGF, Vince Cable visited Utensa, a bakeware firm in Tyseley, Birmingham which has already received a loan from the Aston Reinvestment Trust (ART) - a Community Development Finance Institution (CDFI) and member of the CDFA.
The £30,000 loan has helped Utensa develop its manufacturing facility to improve its competitiveness with the Far East as well as safeguarding jobs for the future and creating jobs for two new machine operators at the company.
The visit was followed by Vince Cable giving the keynote speech at the CDFA's annual conference in Solihull where the Business Secretary set out the important role that CDFIs have in providing credit to under-served markets.
Speaking at the conference, Business Secretary Vince Cable said:
"We need effective channels to support small business which is why the CDFA and its members are so important for providing access to finance and kick starting the economy. They are best placed to ensure that the £60 million goes to those SMEs, such as Utensa in Birmingham, that will create jobs and unlock private investment.
"Regional Growth Fund programmes like this one have already awarded SMEs over 500 grants and loans across the country. This is an excellent way to get value for money, but more importantly, it is a good way to focus on local priorities for growth, as most programmes are led by local partners. RGF is leading the way in rebalancing the economy and boosting business and industry."
Ben Hughes, Chief Executive of the CDFA said:
"We welcome the £60m invested by RGF and Co-operative Bank/Unity Trust Bank into our unique RGF programme. Through creating 8,000 jobs in some of the most deprived areas of England, it offers remarkable value for money in boosting sustainable local growth.
"This investment is critical to the survival of many small and micro businesses who, without this support, would simply not exist. It's a milestone, yet just the starting point for an exciting - and timely - expansion of the community finance sector; greater investment like this offers a new way of creating wealth - that's sustainable and ethical yet that also makes sound business sense."
Robert Jones, Managing Director of Utensa said:
"Without support from a CDFI we would not be where we are today. The loan has made a significant difference to our ability to remain competitive and helped to put the company on a firm footing for the future. I can't speak too highly of ART. The speed and efficiency with which they dealt with our application was surprising and very welcome. They understood our needs and were interested in our business."
Unity Trust Bank Managing Director Richard Wilcox said:
"Banks have a responsibility to help build strong, stable communities where business can thrive and people are secure in their jobs. As a social enterprise ourselves, Unity Trust's £15 million support to the CDFA and the Regional Growth Fund builds on our long-held commitment to the social economy sector as a powerful engine for growth, jobs, enterprise and positive social change in communities that need it most.
"Unity is proud to have been a long-term supporter of the CDFI movement, and the largest provider of wholesale funds to enterprise CDFIs, and as such we are delighted to be able to extend and enhance that support via the RGF scheme."
Steve Walker, Chief Executive of Aston Reinvestment Trust said:
"With this support from the RGF, we look forward to helping hundreds more small businesses in Birmingham and Solihull to protect or create jobs. We are here to support businesses that are unable to access any or all of the finance they need directly from a bank, whatever sector they are operating in. Our remit is to help to boost the local economy."
Keith Alderson, Managing Director, Corporate and Business Banking, The Co-operative Bank, said:
"As a co-operative, we fully understand the important role small businesses play in communities by creating and sustaining jobs and helping to develop local economies.
"We are delighted to be supporting CDFA and the Regional Growth Fund, with this innovative and exciting initiative. It will deliver much needed finance right in the heart of communities. Our involvement is further demonstration of a commitment to play our part in supporting those businesses and social enterprises so vital to stimulating economic recovery."
**Notes to editors:
**1. The Regional Growth Fund (RGF) is a £2.4bn fund operating across England from 2011 to 2015. It supports projects and programmes that lever private sector investment to create economic growth and sustainable employment. More information on the Regional Growth Fund can be found here: http://www.bis.gov.uk/rgf
The Business Secretary is giving the keynote address at the CDFA conference later on the same day in Solihull. Other speakers will include Rt Hon Don Foster MP (Parliamentary Under Secretary of state, DCLG), Lord Young, Gareth Thomas MP, Big Society Capital, Baroness Kramer and British Bankers' Association. There will be opportunities for questions, discussions and debate throughout the conference on the role of Government, banks and the third sector in meeting the credit needs of underserved communities. More details at http://www.cdfa.org.uk/trainingandevents/annual-conference/

A copy of the Business Secretary's speech is available on request.

The Community Development Finance Association (CDFA) is the membership body for community finance providers such as ART.

The CDFA exists to create a thriving community finance industry, which brings social and financial benefits to communities across the UK.

Community finance providers, also known as community development finance institutions or CDFIs, lend money to businesses, social enterprises and individuals who struggle to get finance from high street banks. They help deprived communities by offering loans and support at an affordable rate to people who cannot access credit elsewhere.

Community finance providers lent £200m to UK businesses, charities and social enterprises and households in the last year, serving over 33,000 customers. Enquiries from SMEs soared by 150% last year. For more information about the CDFA please visit http://www.cdfa.org.uk/ or contact Jamie Veitch jamie@veitch.org.uk 07904 272 200.

Aston Reinvestment Trust (ART) raises funds from both the private and public sectors. Since its launch in June 1997, ART has made over 580 loans, lent over £11m and helped member borrowers create or safeguard over 4,900 jobs in its local area - Birmingham and Solihull. For more information please visit http://www.reinvest.co.uk/ or contact Sally Edwards on 07720 883856.

For more information about Utensa please visit http://www.utensa.co.uk/index.php

For more information about the Co-operative Bank please visit http://www.co-operativebank.co.uk/ or contact Andy Hammerton, 0161 903 3835

For more information about Unity Trust bank please visit http://www.unity.co.uk/ or contact Anna Hollis E: anna@matterandco.com T: 020 8533 8893 / 07779 603538 or Hilary Carter E: hilary@matterandco.com T: 07890 137074

For a list of programmes from the Regional Growth Fund please visit http://www.bis.gov.uk/policies/economic-development/regional-growth-fund/approved-programmes
13,. The Government's economic policy objective is to achieve 'strong, sustainable and balanced growth that is more evenly shared across the country and between industries.' It set four ambitions in the 'Plan for Growth' (PDF 1.7MB), published at Budget 2011:
To create the most competitive tax system in the G20
To make the UK the best place in Europe to start, finance and grow a business
To encourage investment and exports as a route to a more balanced economy
To create a more educated workforce that is the most flexible in Europe.
Work is underway across Government to achieve these ambitions, including progress on more than 250 measures as part of the Growth Review. Developing an Industrial Strategy gives new impetus to this work by providing businesses, investors and the public with more clarity about the long-term direction in which the Government wants the economy to travel.

BIS's online newsroom contains the latest press notices, speeches, as well as video and images for download. It also features an up to date list of BIS press office contacts. See http://www.bis.gov.uk/newsroom for more information.
Notes to Editors
Contact Information
Name BIS Press Office Job Title
Division Department for Business, Innovation & Skills Phone
Fax
Mobile
Email bispress.releases@bis.gsi.gov.uk
Name Ed Smith Job Title
Division Department for Business, Innovation and Skills Phone 020 7215 5945 Fax
Mobile
Email ed.smith@bis.gsi.gov.uk
Published 4 October 2012