News story
£6.5m boost for renewable energy skills
Vince Cable announces £6.5m investment to deliver a new generation of engineering leaders in renewable energy.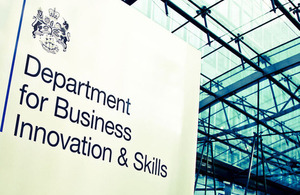 Leading universities and industry will provide training for up to 50 of the best engineering students as part of a new Industrial Doctorate Centre in Offshore Renewable Energy (IDCORE).
Working at the heart of industry, alongside global leaders like EDF Energy, Shell and Rolls-Royce, the students will be trained in the most innovative future technologies from designing cost-efficient new windmill blades to testing the latest wave energy technology at leading facilities like Edinburgh University.
The engineers will also be trained to understand the needs of business and develop their entrepreneurial skills alongside boosting their research and technical skills. The first graduates, who are expected to begin their training in January 2012, will gain an internationally-leading Engineering Doctorate.
Visiting the University of Edinburgh, who will help deliver the programme, Business Secretary Vince Cable said:
"Engineering skills are vital for the growth of a more sustainable economy and are in high demand from employers. This scheme will see industry working with universities to provide students with the training and commercial experience businesses want.
"Scotland has real strengths in renewable energy - wind, wave and tidal power, building on a strong tradition of hydro. These students will have the chance to work with some of the leading energy companies based here and tackle one of our biggest challenges - developing technology for a greener future."
Industrial Doctorate Centre in Offshore Renewable Energy
The new Centre will be funded through the Energy Technologies Institute (ETI) and the Engineering and Physical Sciences Research Council (EPSRC).
Training will be delivered by Edinburgh, Strathclyde and Exeter universities, together with the Scottish Association for Marine Science and consultancy HR-Wallingford. Companies taking part include EDF Energy, BP, Caterpillar, E.ON, Rolls Royce and Shell.
Professor David Delpy, Chief Executive of EPSRC said:
"The EngD is equivalent to the intellectual challenge of a PhD coupled with extensive business leadership training. The research engineers are expected to spend around 75 per cent of their time working directly with their host company on project work and 25 per cent on taught courses. Graduates trained in this way are much sought after by business."
The Centre forms part of the Research Councils UK Energy Programme which aims to position the UK to meet its energy and environmental targets and policy goals through world-class research and training. Led by the EPSRC, the Energy Programme is investing more than £530 million in research and skills to pioneer a low carbon future. This builds on an investment of £360 million over the past 5 years.
The Centre will also form a key part of the ETI's Marine and Offshore Wind Programmes, addressing a priority area for the ETI's engineering and technology developments. The ETI has so far invested £61 million in these two programme areas.
David Ingram PhD, Professor of Computational Dynamics at the University of Edinburgh and Centre Director said:
"If the UK is to meet its ambitious targets for renewable energy deployment in 2020 and 2050 we need to dramatically increase the number of highly trained engineers with expertise and understanding in resource assessment, project planning, device development, grid integration and environmental impact.
"The 50 engineering doctorate students IDCORE will train over the next nine years will, I am sure, help the UK to maintain its position as a world leader in offshore renewables."
Links
Published 31 August 2011