News story
£5m for Scotland's armed forces community
Five Scottish charitable projects are set to benefit from £5 million provided by the latest round of Armed Forces Covenant (LIBOR) Funding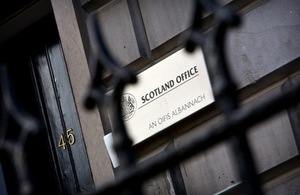 The LIBOR fund uses fines levied on banks for attempting to manipulate LIBOR - the average interest rate estimated by leading banks in London - for use in supporting the UK's armed forces community.
One organisation that will benefit is Veterans F1rst Point (V1P) Scotland, a one-stop shop designed by veterans to provide welfare and psychological support for veterans and their families. They will receive over £2.5m to develop their centre in Edinburgh as a hub helping to establish a further three V1P centres in Inverness, Dundee and Aberdeen
Welcoming today's announcement by the Chancellor of the Exchequer George Osborne, the Secretary of State for Scotland Alistair Carmichael said:
I congratulate the dedication and innovation of all those involved in these fantastic projects who will benefit from this latest round of funding.

It is right that fines received from banks who attempted LIBOR manipulation is being used for good causes across the UK to provide those serving personnel, veterans and their families with the support they need.

Charitable projects across Scotland, from Dumfries and Helensburgh to Edinburgh and Inverness have benefited from £5.5m of LIBOR funding this year. Scotland's armed forces community as a whole will also benefit from UK wide projects which have received a share of the £35m of LIBOR funding. This underlines the UK Government's continuing commitment to the Armed Forces Covenant and Scotland's service personnel and veterans.
Dr Lucy Abraham, Clinical Lead, Veterans First Point, NHS Lothian, said:
Since its creation in 2009, Veterans First Point has been an extremely popular support centre for Scottish veterans and their families. Our dedicated and award-winning staff, including peer support workers and specialist clinicians, have helped over 800 individuals and have generated many success stories along the way. Veterans First Point has been designed by veterans to meet the needs of veterans whatever they maybe.

The team know what it means to leave the military and to start afresh in civilian life. We are aware of the range of issues that veterans face and what assistance they need. This new funding will now enable us to work across Scotland in partnership with many agencies to improve the lives of veterans and families across Scotland.
The four other Scottish charities that will benefit from this funding are:
Houses for Heroes Scotland will use £1,940,000 to build low-rent houses in Scotland for wounded service personnel and their families.

Scottish Veterans Residences in Glasgow will receive £233,000 to to provide temporary supported accommodation for veterans in Glasgow, which will help with the transition to civilian life.

The HMS Neptune Welfare Fund will receive £102,000 to refurbish a holiday cottage to ensure that the facility can be used by injured servicemen and their families.

Rothiemurchus Lodge in Aviemore will receive £65,000 to upgrade various parts of the Lodge which is used exclusively as affordable self-catering holiday accommodation for Armed Forces personnel, veterans and their families.
Published 15 December 2013