World news story
51 Palestinian students head to the UK to study
The Consulate held a farewell reception for 51 Palestinian students who received year-long scholarships to study Masters Degrees in the UK.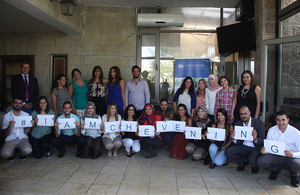 The British Consulate General in Jerusalem held a farewell reception last week for over 50 Palestinian students who received year-long scholarships to study Masters Degrees in the UK. The students include 27 Chevening Scholars and 24 HESPAL Scholars; a fourfold increase in the number of scholarships awarded by the UK government.
This year's Chevening scholars include young people from the West Bank, East Jerusalem and the Gaza Strip. They will be studying a diverse range of subjects, ranging from Human Rights and International law to English language and Sciences.
Deputy Consul General James Downer, British Council representative Caroline Khalaf, Palestinian University representatives and Chevening Scholarship alumni attended the reception to congratulate the scholars. At the end of the reception, Mr. Downer said:
It was a pleasure meeting these young Palestinians as they embark on a year-long masters programme. These young people are about to receive a world class education from some of the top universities in the UK. I have high hopes in their potential as the Palestinian leaders of the future.

This fourfold increase in scholarships demonstrates our commitment to the future of young Palestinians and to the establishment of an independent, prosperous Palestinian State.
The Chevening scholarship for post-graduate studies is funded by the British government to provide educational opportunities for Palestinians in the UK. The scholarship aims to develop the abilities of young people to serve their communities in the long-run. So far, the British Government has awarded scholarships to 209 Palestinians, who currently hold various key positions in public life.
Meanwhile, HESPAL aims to help create the next generation of senior academics who can maintain international quality standards at Palestinian universities and to develop renewed, sustainable links between Palestinian and UK universities.
Published 1 September 2015