News story
£50 million to help mature students with extra costs
The bursary scheme will support mature students to get the skills and qualifications they need in further education, by helping to meet costs…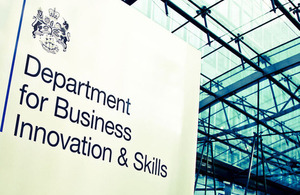 The bursary scheme will support mature students to get the skills and qualifications they need in further education, by helping to meet costs such as childcare, travel, books and equipment.
The fund is one element of a package of support for people who take out 24+ Advanced Learning Loans from next year.
The package of support also includes:
Allowing those taking Access to Higher Education Diploma courses to apply to the Student Loans Company to write off any outstanding 24+ Advanced Learning Loan on completion of their HE course.
Additional information, advice and guidance for adults who are unsure about taking out a loan, provided by the National Careers Service including a targeted face to face session with a careers adviser for older adults.
Business Secretary Vince Cable said:
"I strongly believe in the importance of adult learning. We recognise that some people face financial barriers which is why we are introducing this fund and extra support.
"There are many people who discover an appetite and aptitude for study later on in life and want to pursue a university degree. These measures will support access to HE students who will not incur the cost of two loans to achieve a degree."
Skills Minister John Hayes said:
"Learning should drive social purpose and serve the common good. Through gaining and using skills, individuals obtain a stronger sense of pride in their own achievements. People with such esteem nourish a healthy society.
"That is why I am determined that further education and the benefits it engenders, should be available for all, not the privileged few.
"Investing in the substantial package of measures announced today is evidence of the Government's commitment to ensuring everyone, no matter what their age or background, can pursue their chosen path in life."
24+ Advanced Learning Loans will be introduced for students starting in September 2013 and will operate on the same basis as Higher Education student loans, with repayment starting after the course is finished and the individual is earning above £21,000. Regulations which allow these loans to be introduced will be laid in Parliament today.
**Notes to editors:
**
---
From September next year, people over the age of 24 who are studying at Level 3 or higher, including Advanced and Higher Apprenticeships, will be able to take out a 24+ Advanced Learning Loan to cover the cost of their course fee. The loans will be better than anything on the high street and will have low real rates of interest and any outstanding loan amounts will be written off after 30 years. They will replace Government grants for this group who represent around 10 per cent of learners. Younger learners, those seeking to gain basic qualifications at Levels 1 and 2, and those on out of work benefits will continue to be funded by grants.

The budget for 24+ Advanced Learning Loans is £129 million in 2013-14 and £398 million in 2014-15. The loans are expected to help 82,000 adults in 2013-14 and 204,000 adults in 2014-15 access learning.

Research published by the Department for Business, Innovation and Skills in May shows that 74 per cent of people surveyed say they might, probably would or definitely would undertake learning following the introduction of loans. It also shows that when the terms and conditions of the loans were explained, they became even more positive. More information can be found on the BIS website http://www.bis.gov.uk/assets/biscore/further-education-skills/docs/a/12-795-attitudes-to-further-education-loans.pdf

The £50 million bursary fund is spread over two years (2013-14 and 2014-15). The profile across the two years will be confirmed in due course. It comprises £20 million which has yet to be allocated to colleges and training organisations, plus a reprioritisation of £30 million of current budgets for learner support. The level of the bursary fund will be kept under review so that the right level of support is provided. The method of allocating the fund to colleges and training organisations will be confirmed in due course. Colleges and training organisations will have freedom to disburse the fund, but the Government will set an expectation about the vulnerable groups that could be supported (e.g. learners with learning difficulties and disabilities).

Access to Higher Education Diploma courses are designed to help people with low skills move quickly to a Higher Education programme. In 2010/11, 23,000 people aged 24 and above took Access courses. The projected cost of writing off 24+ Advanced Learning Loans for these courses, for learners who subsequently complete a programme of HE, is being accommodated within the BIS budget. The Student Loans Company will process applications from learners to have the loan for their Access course written off on receipt of their HE qualification.

People progress from FE to HE in a variety of different ways, including by gaining A-levels. However, Access to HE Diploma courses do not have the same value in the labour market as A-levels without the subsequent HE programme. This is why the Government is providing targeted support to those taking Access courses.

Every Access course is validated by an Access Validating Agency (AVA). AVAs are the organisations which develop, approve and monitor Access to HE courses. AVAs do not themselves provide Access to HE courses to students - colleges and other educational providers do this on the AVA's behalf. AVAs are licensed by the Quality Assurance Agency to act as the awarding bodies for Access to HE. AVAs award Access to HE certificates to students who successfully complete the course requirements.

Regulations are being laid today to allow 24+ Advanced Learning Loans to be introduced. The regulations are made under the same powers as the Education (Student Support) Regulations, which underpin the HE student support system. As the regulations are laid under the negative resolution procedure, they will not come into force until more than 21 calendar days have passed and there are 40 days for Parliament to consider the regulations.

The National Careers Service was launched in April this year and combines highly-trained advisers with an interactive website. It offers independent, impartial information and advice on learning and work and access to a wide range of information about careers and the job market.

The Government's economic policy objective is to achieve 'strong, sustainable and balanced growth that is more evenly shared across the country and between industries.' It set four ambitions in the 'Plan for Growth' (PDF 1.7MB), published at Budget 2011:

To create the most competitive tax system in the G20
To make the UK the best place in Europe to start, finance and grow a business
To encourage investment and exports as a route to a more balanced economy
To create a more educated workforce that is the most flexible in Europe.
Work is underway across Government to achieve these ambitions, including progress on more than 250 measures as part of the Growth Review. Developing an Industrial Strategy gives new impetus to this work by providing businesses, investors and the public with more clarity about the long-term direction in which the Government wants the economy to travel.
BIS's online newsroom contains the latest press notices and speeches, as well as video and images for download. It also features an up to date list of BIS press office contacts. See [http://www.bis.gov.uk/newsroom](http://www.bis.gov.uk/newsroom) for more information.
Notes to Editors
Contact Information
Name BIS Press Office Job Title
Division Department for Business, Innovation & Skills Phone
Fax
Mobile
Email bispress.releases@bis.gsi.gov.uk
Name Victoria Heath Job Title Ms Division Department for Business, Innovation & Skills Phone 020 7215 5950 Fax
Mobile
Published 12 July 2012