News story
£50 million Business Angel CoFund invests first £7.2 million
The Government backed, £50m Angel CoFund invests alongside syndicates of business angels into high potential SMEs from across England. The fund…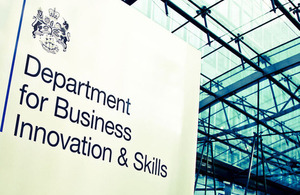 The Government backed, £50m Angel CoFund invests alongside syndicates of business angels into high potential SMEs from across England. The fund will boost the quality and quantity of business angel investing in England to support long-term, high quality jobs in growing companies. The Angel CoFund is a private sector fund supported by a grant from the Government's Regional Growth Fund.
Business and Enterprise Minister Mark Prisk said:
"Business angels play a crucial role in supporting new and growing businesses, and the Angel CoFund is helping small firms get the vital funding they need.
"The variety of businesses that are receiving this funding reveals the range of skills and exciting opportunities that are being created today. It is absolutely critical that ambitious small firms can access the finance that they need to expand and grow.
"I am delighted to confirm today that five investments, totalling £7.2 million, have been made. The Angel CoFund demonstrates the support that the Government can play in partnership with the UK's leading business angels, to enable business growth and job creation."
The investments in each business range from £360,000 to £3.6 million and reflect the wide range of businesses that the Angel CoFund can support across stage, sector and location, with £1.4 million of funding from the Government helping to secure a further £5.8 million from other investors. The first five investments are:
Phase Vision, a Loughborough based company producing high accuracy industrial inspection equipment for the aerospace, nuclear and automotive industries. Their innovative 'white light scanners' enable more efficient manufacturing, delivering lower waste, cost and environmental impact.

style-passport.com, a London based women's online magazine and e-store bringing together fashion services to: compose the ultimate look for each holiday destination; Elegant and easy to navigate, style-passport.com emulates traditional fashion editor's highlights in a modern online form.

Future Drinks, a Bristol based company that has developed an innovative range of healthy soft drinks. These have been successfully trialled in the UK and will launch in the summer 2012.

PlayJam, a London based company which is the leading worldwide aggregator of games for internet enabled TVs. Working with global TV brands including Samsung, LG, Panasonic and Sony, to provide a complete casual and social games experience.

Enval, a Luton based company, using technology originally developed at Cambridge University, to build commercial facilities for recovering aluminium from waste laminated packaging. No effective solution has previously existed for this process which results in the UK alone sending 14,000 tonnes of aluminium to landfill each year.
The Angel CoFund, which expects to invest at least £70 million alongside business angels in the next 10 years, reflects the growing importance of business angel investing; and supports the Government's ambition to help small businesses access a more diverse range of finance sources. Many of the co-investing angels are taking active roles to support and mentor the businesses, providing valuable industry and financial knowledge.
The Angel CoFund was established by a consortium of business angel organisations, including Braveheart Investment Group plc, Hotspur Capital Partners Limited, Octopus Investments Limited and The Oxfordshire Investment Opportunity Network Limited, and Capital for Enterprise Limited.
Rory Earley, Capital for Enterprise Limited's CEO, says the company is very pleased to be working with the Angel CoFund. "The Angel CoFund enables us to work alongside some really high quality people, including successful entrepreneurs, in order to deliver the funding that is so essential to developing high growth businesses."
Notes to editors:
The £50 million Angel CoFund has been created with a grant from the Regional Growth Fund and invests alongside business angel syndicates from across England in order to support high potential SMEs.

The fund is able to make initial equity investments of between £100,000 and £1 million to SMEs alongside syndicates of business angels, subject to certain geographical restrictions and an upper limit of 49 per cent of any investment round. Investment decisions are made by the independent investment committee of the fund based on the detailed proposals put forward by business angel syndicates. More details can be found at www.angelcofund.co.uk

The fund is not open to direct approaches from individual businesses and those seeking investment should first secure the interest of the business angel syndicate or network. Businesses seeking investment can find more information on business angels, syndicates and networks from the British Business Angels Association website: www.bbaa.org.uk.

The Angel CoFund has been established with the support of Capital for Enterprise Limited (CfEL). More information about CfEL can be found on www.capitalforenterprise.gov.uk.

This year the Government is running the Business in You campaign to encourage more people to start or grow their business throughout 2012 using a range of existing support services. More information is available at businessinyou.bis.gov.uk.

BIS's online newsroom contains the latest press notices, speeches, as well as video and images for download. It also features an up to date list of BIS press office contacts. See http://www.bis.gov.uk/newsroom for more information.
Notes to Editors
Contact Information
Name BIS Press Office Job Title
Division Department for Business, Innovation & Skills Phone
Fax
Mobile
Email bispress.releases@bis.gsi.gov.uk
Name James Platt Job Title
Division Department for Business, Innovation and Skills Phone 020 7215 5978 Fax
Mobile
Email james.platt@bis.gov.uk
Published 8 May 2012