50 days to go to sign up to be a councillor
Create a better future, be a councillor.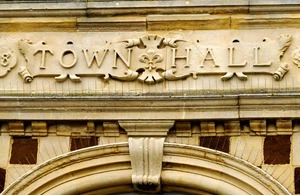 With only 50 days left to put yourself forward as a councillor in this year's local elections Local Government Minister Grant Shapps has been joined by councillors past and present to urge more people to consider standing.
Mr Shapps said:
With more powers being devolved from Whitehall to the town hall, now is a better time than ever before to stand for election. Through the Localism Bill, a key part of the Big Society, we are freeing councils to make decisions that will benefit their whole community, and come up with creative ways to improve their local area.
The Localism Bill, currently before Parliament, will devolve unprecedented power to local communities. Its measures include a new General Power of Competence for councils and their councillors giving them the green light to be creative and act in the best interests of their communities. Rules that have restricted councillors from championing local issues will be scrapped and councils will be allowed to return to the Committee system meaning all councillors will have direct involvement in decision making.
Mr Shapps said that despite having been tied down by Whitehall red tape and local bureaucracy he is full of admiration for those existing councillors who have continued to champion their communities. But with these restrictions set to become a thing of the past he wants to see a new generation join this army of community champions. The minister also hopes that this will see councillors become more representative of the communities they serve. According to the most recent survey only around 30% of councillors are women, 3.4% from ethnic minority backgrounds and the average age of councillors is almost 59.
Manjula Sood, a councillor in Leicester, said:
Being a councillor is so rewarding. It allows one to make a real difference to the lives of others. It helps one to champion injustice and eradicate inefficiencies. Councillors are involved in all aspects of public service as well as community issues.
Manjula implores anyone who has a passion to make a difference "to become a councillor and leave a lasting legacy to the lives of others".
Afzal Khan served Manchester, his ward and city, for 10 years. In his words "this role has been both challenging and rewarding." He also urges everybody with the time, energy and desire to help to improve their local area to get involved in politics, saying that "you can make a difference but you have to be part of something to bring change".
Fiona Thompson, a councillor from Welwyn Hatfield said:
I always thought becoming a councillor was the sort of thing other people did. But the work is extremely rewarding and I really feel I'm making a difference in the community. I would encourage anyone in my position who cares about where they live to stand to be a councillor as it is vital to keep our communities alive. I welcome the changes that will be introduced when the Localism Bill is passed.
People interested in putting themselves forward should consider whether a local political party best represents their views and speak to them about how to stand. Councils will also provide advice, and further details and contacts can be found at the government supported 'be a councillor' website. Councils have varying dates from which people can apply to be a councillor but all applications must be received by 4 April 2011.
Published 13 February 2011