50 days to go to Commonwealth Heads of Government Meeting
Lord Howell: Commonwealth Heads of Government Meeting in Perth could be a 'defining' moment.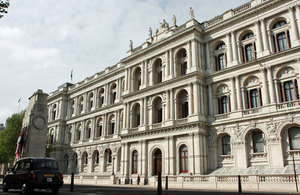 Minister for the Commonwealth Lord Howell has spoken on the UK's ambition for the 2011 Heads of Government Meeting (CHOGM) in Perth in October.
The House of Lords debated the Commonwealth on 8 September. Over thirty Peers spoke, and the debate reflected in detail the wide range of subjects in which the Commonwealth plays a role. These include parliamentary activity, women and girls' opportunities, education, trade, culture, development, democracy and human rights. Lord Howell said:
"The Government share Her Majesty's ambition that the Commonwealth becomes a central platform of the international landscape, representing an enlightened and responsible association that plays an active role in shaping the direction that our world is moving in and the destinies of this nation as well."
At CHOGM, Heads of Government will consider the recommendations of the Eminent Persons Group (EPG) for reform of the Commonwealth.
Lord Howell said:
"We are hopeful that the general aims of the EPG - to upgrade and reinvigorate the Commonwealth and bring it to its own standards of strong commitment to human rights, parliamentary democracy, the rule of law and good governance - will be seen to be the values of the future that make the Commonwealth what it is.
"There is a whole string of ideas and proposals for upgrading the Commonwealth, for giving the Commonwealth Ministerial Action Group-CMAG-more teeth and making it more proactive, and for bringing home to everyone in the Commonwealth the idea that reform of the Commonwealth will help.
"More democracy and more commitment to values and the rule of law equals more attraction for investment, more trust, more trade, more people ready to commit their resources to a country where they know there will be no knock on the door from the police in the middle of the night or some corrupt device removing investments and assets from the person who owns them.
"Perth could be a defining moment for the Commonwealth. Heads will need to take bold and vital decisions in response to the EPG recommendations, which will shape the role of this unique organisation."
50 days to go
In a video message marking 50 days to go to CHOGM, Lord Howell also welcomed the role that CHOGM can play in helping to support the smaller members meet the economic, energy and climate challenges of the future.
Published 9 September 2011