Press release
50,000 new opportunities in the food industry
The apprenticeships are part of an industry drive to get more young people into skilled food jobs.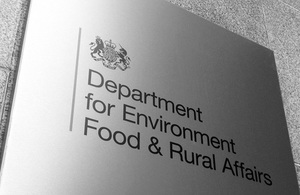 Tens of thousands of new apprenticeship opportunities in the food industry were announced by Food Minister Jim Paice today. The apprenticeships are part of an industry drive to get more young people into skilled food jobs. Mr Paice made the announcement as he launched a Defra-sponsored action plan to get food businesses to run more apprenticeships and change the way young people to think about working in the food industry.
Speaking at the Institute of Grocery Distribution's (IGD) Skills and Employability Summit, Food and Agriculture Minister Jim Paice said:
"Our food industry is hugely important to growth, employing 3.7 million people and contributing almost £90 billion to the UK economy. But we know that there is a big skills gap right across the food chain. The industry must attract more well qualified and ambitious candidates if it is to continue to grow and innovate."
"These 50,000 apprenticeships show that the food industry is serious about becoming a place where young people seek out skilled and fulfilling careers. I would encourage anyone out there looking for a challenging career in a growing sector to think about the food industry."
Jonathon Pearson, former Apprentice of the Year (2007), now employed by Dr Oetker said:
"People don't always see the career opportunities available working with food. I became an apprentice production operator in 2005 and since completing my training have progressed to leading a team. I would strongly recommend people looking for challenging and rewarding careers to consider applying for an apprenticeship in the food industry."
The new Skills Action Plan for the Food Supply Chain aims to:
change the way that young people think about careers and development in the food industry. As part of this the industry will push a new 'Feed your Ambition' message to over 60,000 young people in over 800 schools; and
encourage more apprenticeships across the entire Food Supply Chain but in particular in SMEs.
John Hayes MP, Minister of State for Further Education, Skills and Lifelong Learning said:
"Investing in skills helps the food industry build a sustainable and prosperous future. Apprenticeships are a great way for young people to get the high calibre training they need to get on - and with every pound of public money invested in an apprenticeship generating a return of £40 for the economy, they are great for growth. That's why this Government will support the greatest number of apprenticeships in our country's history."
Paul Grimwood, Chairman of the Food and Drinks Federation (FDF) Competitiveness Steering Group and Chairman & CEO of Nestle UK & Ireland said:
"We need to attract well qualified and ambitious candidates into our industry. The Food Supply Chain Action Plan brings together all parts of the food chain to maximise the impact of individual campaigns and actively promote career opportunities to potential new entrants."
Notes
The Skills Action Plan for the Food Supply Chain is sponsored by Defra and led by Improve, the Sector Skills Council for Food and Drink. The action plan was developed by a steering group of representatives from businesses, industry bodies and skills organisation partners and a range of contributors from every aspect of the food supply chain. The full plan is available at www.igd.com.
More information about Apprenticeships can be found on the website of the National Apprenticeship Service at www.apprenticeships.org.uk.
Published 22 June 2011