News story
5 reasons to keep the UK pound
The currency isn't just about the notes and coins in your pocket. Get the facts.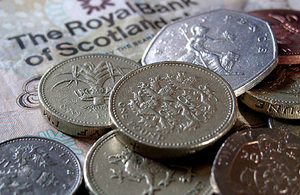 Currency is one of the most important issues in the independence debate. It affects the value of your savings, your pensions and your mortgage, your ability to spend and save, business and trade, your taxes and public services, and the stability of the whole economy.
Here are 5 things you need to know.
Photo credit Sheila Curzon
1. Risk and cost
Currencies are most effective when they belong to an integrated political, economic and fiscal union, like the UK pound is now. When they are shared across states they create risks and costs as we have seen with the euro.
2. Serving the nation
The pound is one of the most secure, stable and trusted currencies in the world, because it is backed by the strength of the Bank of England and 31 million tax payers across the whole UK.
3. Sharing the pound
Creating a formal currency union would be bad for the continuing UK and bad for an independent Scotland. It would cost jobs and cost money. All 3 main UK parties have ruled it out.
4. Independence means leaving the pound
There is no rule in international law that would require the continuing UK to share its currency with an independent Scottish state. Independence means leaving the UK's monetary union and leaving the UK pound. This is part of the choice that people in Scotland are being asked to make.
5. Keeping the pound
The Scottish government are proposing to divorce the rest of the UK but want to keep the joint bank account and credit card. This is not going to happen. The only way to keep the UK pound is to stay part of the UK.
Want more info? Take a look at the following documents:
Published 21 May 2014