£5 million to support innovative flood defence schemes
The projects are funded by the Flood Resilience Community Pathfinder scheme launched by Defra in December 2012.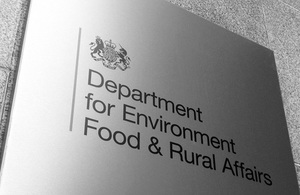 Thirteen communities across the country will benefit from a £5 million fund to come up with innovative projects that will better protect homes and businesses from the risk of flooding, Environment Minister Richard Benyon announced today.
The scheme is aimed at protecting communities where flooding is a major problem and the projects will be required to demonstrate that they can reduce the levels of flood risk in measurable ways. This will give residents evidence about flood risk that could be taken into account by insurers and result in lower premiums.
The projects are funded by the Flood Resilience Community Pathfinder scheme launched by Defra in December 2012.
Announcing the funding, Mr Benyon said:
"We want to help local communities do more to protect their homes and possessions from the risk of flooding. The Flood Resilience Community Pathfinder Scheme will enable communities to find simple, effective ways to minimise their flood risk, improve their levels of preparedness, and build confidence and increased peace of mind.
"All together with money from local communities and business raised through our successful partnership funding scheme, over £2.3 billion is being spent to protect people from flooding. This is more money than ever before, and we are on course to better protect 165,000 homes by 2015."
Pathfinder projects are designed to complement other flood risk management work already taking place, or planned for the future, to further alleviate the risk of flooding.
One of the largest projects is in Calderdale, where 1000 people will be protected from flood risk, because volunteers will monitor rivers and lakes so that higher levels of water can be drained safely to avoid flooding. Defra has contributed £310,000 to this project with a further £215,000 raised through partnership funding from the Council, local businesses and a community trust. The project partnership_ _also includes organisations with regional interests like the Environment Agency, Yorkshire Water and the Canal & River Trust.
The following Local Authorities will be receiving funding: Blackburn, Buckinghamshire, Calderdale, Cornwall, Devon, Liverpool, Northamptonshire, Rochdale, Slough, Southampton, Swindon, Warwickshire and West Sussex.
A breakdown of funds can be found below:
Local Authority
Proposal
Total
Defra contribution
Blackburn
Establish flood resilience groups, community champions and develop community flood plans volunteering opportunities to engage people in flood management.
276,255
276,255
Buckinghamshire
Develop Chesham as a more flood resilient community, Establish a flood action group, recruit volunteer flood wardens and develop a community flood plan. Intend   running flood exercises and volunteer interventions.
457,500
300,000
Calderdale
Partnership work between Calderdale Council and a range of voluntary and statutory organizations. Aiming to work with 1,000 homes and businesses to reduce flood risk.
525,000
310,000
Cornwall
Increasing  community resilience across Cornwall by building upon projects funded through the Cornwall Community Flood Forum and the 2010 flood recovery process.
238,000
238,000
Devon
Projects targeted at communities across the county that live in rapid response catchments. Package of measures has been developed which will be adapted for   communities at risk.
728,400
488,400
Liverpool
Raising awareness of community flood resilience and increasing the flood resilience of 36 vulnerable properties. Working with a Residents Association (over 300   properties) by developing a voluntary Flood Warden scheme.
384,651
306,600
Northamptonshire
Develop a community flood risk tool kit for 15 identified communities as a pilot. This will complement other activities coordinated through the annual action plan as set out in the local flood risk management strategy.
384,030
299,150
Rochdale
The proposal focuses on three areas of Rochdale. The project will include outreach and engagement to target priority communities to create and support local groups.
248,000
248,000
Slough
The community will own and lead the development and implementation of risk reduction measures with the support of the project team. Community is urban, deprived with a highly mobile and diverse ethnic mix.
484,665
284,665
Southampton
Improve household and community resilience to flooding within the community at Priory Road, Southampton which is at risk from tidal flooding, surface water and   groundwater flooding.
472,000
472,000
Swindon
Aims to harness individuals through empowerment, education, training and volunteer service in order to make communities more resilient. The intention to develop a network of Community Flood Champions to work across Swindon.
278,311
278,311
Warwickshire
To develop a community-led approach to flood resilience and implement sustainable solutions through Local Flood Resilience Action Plans.
429,500
251,300
West Sussex
Develop a community centred approach to flood resilience by proactively engaging and empowering individuals on flood risk. Develop and implement sustainable solutions owned by communities and encapsulated in Community Flood Resilience Action Plans.
347,000
298,500
Published 25 March 2013