News story
£4M for nuclear security abroad
The UK will make a contribution of £4m to the International Atomic Energy Agency's Nuclear Security Fund for 2011-13. This will support work…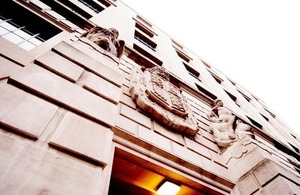 The UK will make a contribution of £4m to the International Atomic Energy Agency's Nuclear Security Fund for 2011-13.
This will support work to enhance global nuclear security. The contribution was made at the IAEA's Board of Governors meeting this week in Vienna.
For more details see the IAEA website.
Alongside this, the UK published the Global Threat Reduction Programme annual report for 2010. This sets out progress on reducing the threat of proliferation of dangerous nuclear, radiological, biological and chemical materials and expertise.
Charles Hendry, Minister of State for Energy said:
"It is vital that we do all we can to secure nuclear, radiological, chemical and biological materials. Doing this directly benefits our national security.
"I am pleased that we are making substantial progress with this crucial work in Russia and the Former Soviet Union."
Highlights from the report include:
Completion of a major joint US-UK-Kazakhstan project to transfer spent nuclear fuel from the decommissioned plutonium-producing BN-350 nuclear power plant at Aktau to a safe and secure storage at Semipalatinsk.
Completion of the UK's largest physical protection project to date delivered in collaboration with the International Atomic Energy Agency, providing security improvements to the Armenian nuclear power plant.
The establishment of tapered sustainability support for previously completed nuclear security infrastructure projects in Russia, and completion of a further such project within the Global Threat Reduction Programme's Nuclear Security Programme.
Development of the Global Threat Reduction Programme's Nuclear Security Workshop, which has gained the International Atomic Energy Agency endorsement and was delivered overseas for first time.
Moving into the final phase of the Closed Nuclear Cities/Centres Partnership scientist redirection programme, which remains on track to meet all objectives by its planned closure date in 2012.
Completion of milestones in the shielding of radioactive material and construction of new facilities at the spent nuclear fuel storage facility at Andreeva Bay in North West Russia.
Continued contributions to improved safety and security by the Global Threat Reduction Programme's biological non-proliferation programme, primarily in Georgia and Tajikistan.
The Ministry of Defence has completed all of its planned Chemical Weapons Destruction projects, with a total value of over £90m. The funding was provided by the UK, Canada and other international donors. These projects have played a key role in helping Russia to bring the Shchuch'ye chemical weapon destruction facility into operation, and destroy one third of the 1.9 million chemical weapons stored there. The Ministry of Defence is also continuing to implement projects in the Former Soviet Union and elsewhere which seek to reduce the risk that biological agents and expertise will be misused for weapons purposes. During the past year, the Department has signed new agreements worth £1M with the US Department of State, the World Health Organization, and the World Organisation for Animal Health to support projects which meet shared health and security objectives.
---
Notes for editors
The UK Global Threat Reduction Programme 2010 Annual Report is now available.
Published 8 March 2011