Press release
460 new businesses set up every week by out-of-work entrepreneurs: government scheme reaches 50,000 milestone
More than 53,000 new businesses have been set up thanks to a government scheme which helps people on benefits become their own boss.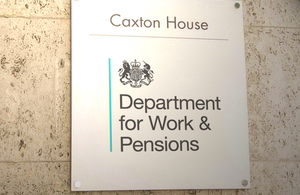 More than 53,000 new businesses have been set up thanks to a government scheme which helps people on benefits become their own boss – an average of 460 every week over the last year.
As part of the government's long-term economic plan to create jobs by backing small business and enterprise, the New Enterprise Allowance (NEA) has helped jobseekers of all ages, lone parents and people on sickness benefits to turn their entrepreneurial dreams into a reality.
The scheme provides jobseekers with start-up help and advice from a business mentor and financial support payable through a weekly allowance. Participants can also access a loan through the BIS start-up loan scheme.
It is responsible for a wide range of new businesses across Britain, including:
a jewellery boutique that has featured its wares in Vogue magazine
a greeting card company catering for religious festivals, weddings and birthdays
a carousel refurbishment business whose horses have appeared in Beyoncé concerts and Oasis clothing stores
Minister for Employment, Esther McVey said:
Small businesses are the backbone of the UK economy and are delivering a significant share of new vacancies – and it's thanks to their hard work, creativity and entrepreneurial spirit that we are recovering from one of the biggest recessions in living memory.

As part of the government's long-term economic plan we are successfully moving people off benefits, and helping them to achieve their dreams of becoming their own boss. Tens of thousands of new and innovative businesses are now up and running thanks to the scheme, some of which are now employing people and are helping to make the goods and provide the services which are powering the UK's economic recovery.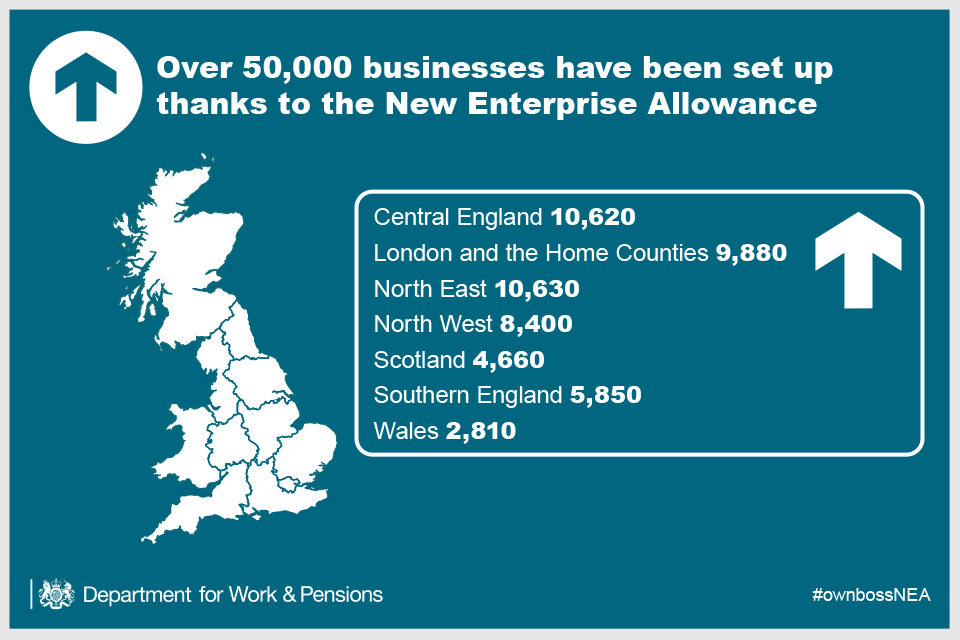 The New Enterprise Allowance is available to:
people over 18 who are claiming Jobseeker's Allowance
lone parents on Income Support
people on Employment and Support Allowance in the work-related activity group
People on the scheme get expert help and advice from a business mentor who will help them to develop their business idea and write a business plan. If the business plan is approved, they are eligible for financial support payable through a weekly allowance over 26 weeks up to a total of £1,274. Participants can also access a loan through the BIS start-up loan scheme.
Mentors also continue to give the budding entrepreneurs on-going support during the early months of trading.
Today's figures show that the scheme helps people of all ages, with 12,360 businesses started by people aged 50 and over, and 3,920 businesses started by young people. 10,040 businesses were set up by disabled people and 3,510 by those from BME backgrounds.
Kirsty Henshaw, founder of Kirsty's, a specialised gluten, dairy and wheat-free food range stocked in Wholefoods, who is soon to be a mentor said:
Being a single mum, I know what it's like to juggle family responsibilities with a growing business. That's why I'm looking forward to sharing my experience as an NEA mentor and helping others in the same situation tackle some of the barriers that I faced when I first started.

Setting up your own business can be hugely rewarding and lets other people, including mums like me, work around the times that best suit us. The opportunity to help someone who is new to business by sharing my top tips and being on hand to provide any help is fantastic.

When I first started, I never thought that I'd eventually be the one giving out the advice and I want to help more people do the same.
Levi Roots, the NEA ambassador and Founder of Reggae Reggae Sauce said:
Setting up your own business can be challenging but there's no job that is more rewarding. Working your own hours, being your own boss and making your own money are just some of the reasons I started working for myself. But, as a businessman, I know how hard it can be to get started.

That's why I'm pleased to see the wide range of support that is available to all of those potential self starters. I'd strongly recommend seeing your local Jobcentre Plus Adviser who can guide you on the financial help available through the New Enterprise Allowance and on the benefits of expert mentoring.

As a former mentor, I know what it's like to work from the bottom and the importance of support when starting but there's no other job like it. The flexibility, ultimate authority and ability to pursue your own passion make it the most satisfying job out there – I wouldn't look back!

The New Enterprise Allowance scheme is just one of the ways DWP offers tailored support to benefit claimants through our 700 Jobcentre Plus offices. Work coaches also work closely with local employers and can fill skills gaps through our job academies, apprenticeships and work experience schemes.
Case Studies
Finchittida Finch
Twins Lisa and Tida used the New Enterprise Allowance to set up their joint business venture 'Finchittida Finch', an independent fashion accessories and jewellery label. The label itself represents the Lao and British heritage of the twins who have seen great success by supplying to ASOS with mentions of their jewellery in Vogue and Elle.
Anisha Chauhan Designs
Birmingham Based Anisha Chauhan spotted a gap in the market for Asian wedding and greeting cards and has used NEA to set up her business targeting areas with Asian communities. Anisha also created invitations, wedding table name cards and money wallets that are traditionally given as gifts and used word of mouth to spread her success. But this couldn't have happened without the support of her mentor who helped Anisha write a business plan and guide her through the process.
Anisha said:
A4e were brilliant and gave me the confidence and support I needed to get it off the ground.

My A4e adviser and mentor Arshad Mahmood was an absolute star. I was blown away by the help and advice that was provided. With Arshad helping me with my business plan I felt so much more confident. Coming from an art and design background, you could say I was a bit clueless, but Arshad was very understanding of that.
UK Gallopers
East Midlands based Ian Hunt set up a business producing bespoke fairground carousel horses and fibreglass fairground products and props after he was made redundant. However, Ian took the time to develop an idea he been mulling over for some time and used NEA to bring his idea to life. Ian used his experience of working with glass to also produce fibreglass fairground products and props that have featured in shows of some of the worlds biggest celebrities including Beyoncé and Iggy Azalea.
Ian said:
The NEA programme is a real winner on helping you understand how to run your own business and the mentors are fantastic. I came on the programme with a basic idea, but once you start working on your business plan things start to drop into place. I started just thinking about making horses for collectors but expanded into window displays, interior design and props.
More information:
See statistics on New Enterprise Allowance
Contact Press Office
Media enquiries for this press release – 0203 267 5118
Press Office
Caxton House
Tothill Street
London
SW1H 9NA
London Press Office (national media and London area enquiries only – not questions about personal claims) 020 3267 5144
Out-of-hours (journalists only) 076 59 108 883
England and Wales (local media enquiries) 029 20 586 then 097 or 098 or 099
Scotland (local media enquiries) 0131 310 1122
Follow DWP on:
Published 25 September 2014