Press release
£450,000 repairs for M6 north of Penrith
Two Highways Agency projects to give drivers safer, smoother journeys along the M6 north of Penrith in Cumbria will be taking place this month.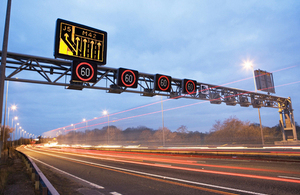 The whole of the northbound carriageway between Penrith at junction 41 and Carlisle at junction 42 will benefit from work to renew road markings and road studs in a £285,000 project starting on Monday 17 March and due for completion by the end of the month.
All the work will be done overnight – between 8pm and 6am each night - along short sections of the carriageway. All the work will also be done utilising lane rather than full carriageway closures to help keep drivers on the move. One overnight closure of the northbound exit slip road at junction 42 will be required on Friday 28 March. A diversion route will be operating via junction 43 and the southbound M6.
A second, £169,000, project to resurface a short section of the northbound M6 around junction 41 will also be taking place this month.
The project will focus on a mile-long section of lane one of the carriageway which is badly worn and needs resurfacing.
The resurfacing is taking place between Monday 17 March and Wednesday 19 March with finishing work taking place with a full overnight closure of the northbound carriageway at junction 41 on Saturday 5 April.
This month's work requires the closure of lane one around the clock over the three days with the middle lane also closed overnight. Both the northbound exit and entry slip roads will also be closed overnight with clearly-signed motorway alternatives in place.
To complete the work the carriageway will need to be closed totally overnight between 8pm on Saturday 5 April and 6am on Sunday 6 April but with an 'up and over' diversion in place at junction 41 – allowing drivers to leave the motorway at the exit slip road and rejoin it from the entry slip road via the junction roundabout.
Highways Agency project sponsor Peter Gee said:
This is routine maintenance to ensure drivers using this part of the M6 through Cumbria can continue to enjoy safe, smooth and reliable journeys.

We have planned both projects to minimise inconvenience to motorway users but drivers should leave a little bit of extra time if travelling on nights when slip roads or the main carriageway are closed.
General enquiries
Members of the public should contact the Highways Agency Information Line on 0300 123 5000
Media enquiries
Journalists should contact the Highways Agency press office on 0844 693 1448 and use the menu to speak to the most appropriate press officer
Published 6 March 2014