World news story
400-year old British school launches in Singapore
The British High Commissioner hosted an evening reception at his residence to announce and celebrate the launch of Dulwich College (Singapore).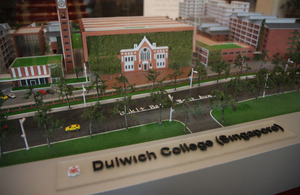 Ahead of the school's opening in August 2014, Dulwich College announced that its college will be situated on a 5-hectare site at Bukit Batok West. It will be its 7th college in Asia.
The Singapore campus will add to the existing family of Dulwich Colleges in Beijing, Shanghai, Suzhou (two), Seoul, Zhuhai, and the founding school, Dulwich College in London.
The school has also established a regional head office in Singapore to support the development of the school and to achieve Dulwich College's goal of a creating a truly global network of excellent schools.
On the decision to establish Dulwich College in Singapore, Mr Leo Yip, Chairman of the Singapore Economic Development Board said:
The availability and quality of international schools form an important part of a country's business infrastructure for attracting investments. We are delighted that Dulwich College, one of the top international schools, is setting up in Singapore. The establishment of Dulwich College (Singapore) will enhance our international school landscape, and support our efforts to attract more global companies to grow their activities here.
The launch reception saw Dulwich Alumni, parents of Dulwich students and a good mix of both local and multinational companies. During the reception, special performances were presented by Dulwich College musicians and choristers. Other VIPs in attendance included ambassadors from other foreign embassies and high commissions.
Published 25 February 2013