Press release
£400 million will help science and engineering students get ahead in the global race and encourage more women to study these subjects
Science and engineering teaching at English universities will receive a £400 million boost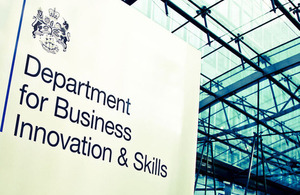 Science and engineering teaching at English universities will receive a £400 million boost, Universities and Science Minister David Willetts announced today.
Only 6% of the engineering workforce in the UK is female, so this package of support will also have a particular focus on encouraging women into these subjects.
The package consists of:
a £400 million capital investment. A £200 million fund from government will be matched by universities on at least a one-to-one basis. This will boost our national university infrastructure and allow science and engineering departments to provide world-class facilities and teaching for students. The competition for these funds will also act to support the aim of getting more women to take science and engineering at degree level by requiring evidence of a commitment to equality and diversity
a partial relaxation of the current rules that prevent part-time students who have previously studied for a degree getting access to support for fees. The reversal means that anyone wishing to retrain part-time in engineering, technology and computer science will now be able to get some tuition support
Work has already started on preparing the way for our supply of tomorrow's engineers and scientists. There has been a 46% increase in the number of girls taking GCSE physics since 2010, a number that shows they are now catching up with boys.
To build on this success and to ensure that more women go on to pursue careers in science the government hopes to see the rise in girls doing GCSE physics reflected in a higher share of girls doing physics for A-level. This, as well as today's announcements, will support the National Centre for Universities and Business' (NCUB) ambition to double the proportion of engineering degrees taken by women from 16% now to 30% by 2030.
Universities and Science Minister David Willetts said:
Investing in national infrastructure is a key part of this government's economic strategy. This new funding will provide world class, industry standard facilities and teaching for students. These facilities will also help bridge the gender gap that exists and give more incentives for women to retrain as engineers and put their skills to great use.

We will also reverse the rules which stop people from getting financial support to retrain in engineering and technology part time. This will ensure the nation has the skills we need to ensure our businesses stay ahead in the global race.

So we are inviting all who care about the future of science and engineering in our country to join us by signing up to this national ambition to increase the number of women entering science and engineering.
The new £200 million fund will be administered by the Higher Education Funding Council for England (HEFCE). Institutions will be invited to bid for funding against a set of criteria and priorities. With matched funding this will provide at least £400m investment. We will expect HEFCE to look for evidence of commitment to equality and diversity in allocating the teaching capital funding, for example the HEI having an Athena SWAN award.
The Department for Business will also join forces with major engineering employers and institutions as well as many of the country's leading young engineers to help persuade more young people to pursue a career in engineering.
Tomorrow's Engineers Week will take place from November 4-8 and aims to change perceptions of engineering among young people, their parents and teachers. The week will help to challenge outdated negative perceptions about engineering careers, particularly amongst women, and demonstrate the relevance of engineering to young people's everyday lives.
During Tomorrow's Engineers Week the Department will publish a review examining the pipeline for developing Engineers, with the aim of identifying practical measures, working in partnership with employers and the Engineering profession, that can improve the supply of Engineering skills.
Notes to Editors:
The exemption of part time engineering, technology and computer science courses from the equivalent or lower qualifications (ELQ) policy will cost approximately £5 million in loan outlay in 2015-16

The government's economic policy objective is to achieve 'strong, sustainable and balanced growth that is more evenly shared across the country and between industries'. It set 4 ambitions in the 'Plan for Growth', published at Budget 2011:
to create the most competitive tax system in the G20
to make the UK the best place in Europe to start, finance and grow a business
to encourage investment and exports as a route to a more balanced economy
to create a more educated workforce that is the most flexible in Europe
Work is underway across government to achieve these ambitions, including progress on more than 250 measures as part of the Growth Review. Developing an Industrial Strategy gives new impetus to this work by providing businesses, investors and the public with more clarity about the long-term direction in which the government wants the economy to travel.
Published 30 September 2013