News story
£400 million boost to England's colleges
£400 million will be spent at a number of English colleges to upgrade facilities and resources, with £110 million coming from the Government.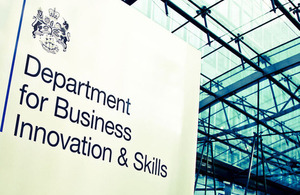 21 Nov 2012
---
---
Projects at 56 English colleges range from the launch of a state-of-the-art civil engineering academy, to transforming classrooms into vocational workshops.
Making the announcement at the Association of Colleges (AoC) Conference, Business Secretary Vince Cable said:
"These projects will transform the learning environment for thousands of students across the country, providing them with state-of-the-art facilities and modern resources that will help them fulfil their potential.
"Addressing gaps in skills is an important part of our industrial strategy. This initiative is another example of how Government is working in long-term partnership with industry to give them more confidence to invest, hire and grow."
Examples of succesful bids include:
South Essex College of Further and Higher Education raising almost £40 million which will be combined with nearly £3 million grant support to build a new town centre site. It will have facilities ranging from mechanical engineering workshops to student training kitchens.
A new £4 million agriculture building at Bridgwater College in Somerset which will address the growing demand for specialist rural skills and develop closer links with the agriculture industry in the region.
A new £7.7 million creative industries building at Kingston College.
£8.1 million on refurbishing the campus and building new arts facilities at Burton and South Derbyshire College.
Government is investing £110 million, through the Skills Funding Agency, which is matched with £302 million investment from colleges.
In May this year all colleges were invited to apply for up to £3 million for individual projects, with an expectation that the facilities will be ready to use by September 2014. The resources are aimed at colleges that have not received significant funding in the recent past.
Links
Published 21 November 2012